Finance Students Invest Real Money in the Stock Market
06/01/2020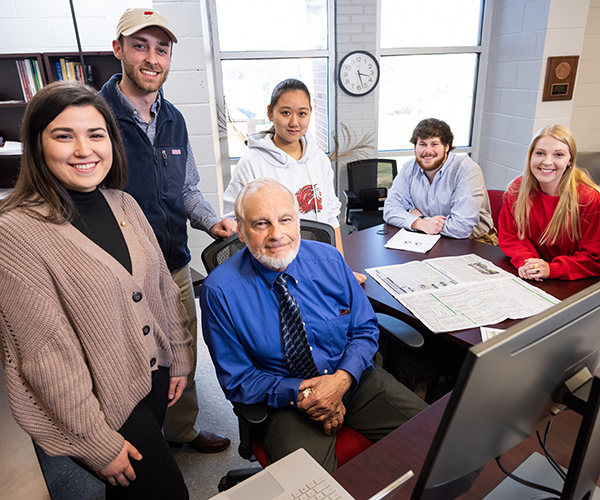 Former finance professor Gene Padgham (center) funded the establishment of the Student Managed Investment Fund upon his retirement. He visited campus in February to meet with students studying the stock market. Photo by Matt Reynolds.
Too often education is based on the hypothetical. It's only after they graduate and enter the so-called "real world" that students have their knowledge tested against the consequences of success and failure.  
At JSU, students are given the opportunity to gain work experience and job skills while pursuing their degrees. To allow finance students to better apply what they are learning in class, the School of Business and Industry has established a Student Managed Investment Fund (SMIF). 
"The biology department gets to work with animals, while engineering works with 3-D printers and robots," explains Dr. Steven McKlung, dean of the School of Business and Industry. "The tool of the Department of Finance is money. Many big business schools have a lab where students get to invest hypothetical money in the stock market. Most students who have worked with SMIFs are able to secure a job before graduation. You think differently when you're using real money versus monopoly money."
The SMIF allows business and finance students to use real money for experimental learning in securities analysis and portfolio management. Members monitor the performance of every stock in the fund, collectively give input, and discuss the performance of their investments. 
"Each semester, students in the Investments course evaluate our portfolio and identify which stocks aren't performing well and make a pitch on which stocks we should sell," said Dr. Bill Scroggins, professor and head of the Department of Finance, Economics and Accounting. "At the same time, they identify stocks we don't own that they believe would be a good investment. I let the class vote on which stocks to sell and which to purchase. Then we have an investment broker make the trade." 
Along the way, students are mentored by a Board of Advisors comprised of JSU finance alumni. The board currently includes Duvan L. Brock, executive vice president of Dempsey Lord Smith, LLC.; Cary Guffey, a Certified Financial Planner and advisor with PNC Investments; Randy Hurst, a financial advisor with Edward Jones; and David Nast, president and CEO of Progress Bank. These alumni get to know the students and offer career advice. 
"This is very attractive to employers, as it provides our students with invaluable hands-on experience you can't replicate any other way," Scroggins said. "It moves the entire business school into the top-tier."
Trevor Lane, a senior finance major from White Plains, Ala., agrees. "It's going to help us a lot," he said. "When we get out of college and look back, this is going to be our first chance at using real money to make an investment profit. It's a great experience." 
The entire venture was made possible by former finance faculty member Gene Padgham, who donated the funds to set up the SMIF upon retiring in 2011, after 30 years of teaching finance on campus.  
"Gene is a very special person who always demonstrated a caring attitude toward his students," Scroggins said. "A lot of alumni owe their successful careers to him. He always went the extra mile. He loved helping students – that's our job, but he really embodied that every day in his teaching career. Throughout his career, he surrounded himself with students and shared his love of finance."
Padgham served as an advisor to the Financial Management Association, through which students performed simulation exercises, but he knew the stakes simply weren't high enough.
"I always felt like it would be more meaningful to them if they had some genuine money to work with," Padgham said. "JSU had always been very good to me, and this was a way for me to give back to the university and to also help the students, who were my joy."
As the SMIF continues to grow, a goal is for it to fund a self-sustaining scholarship available to finance majors. 
"Yearly, the SMIF continues to improve and plays a unique role in our finance curriculum," Scroggins said. "Through high-caliber students, determination, and professional conduct, the SMIF seeks to be one of the most unique and prestigious programs offered in the School of Business and Industry at JSU."