JSU Announces New License Plate Design
05/01/2020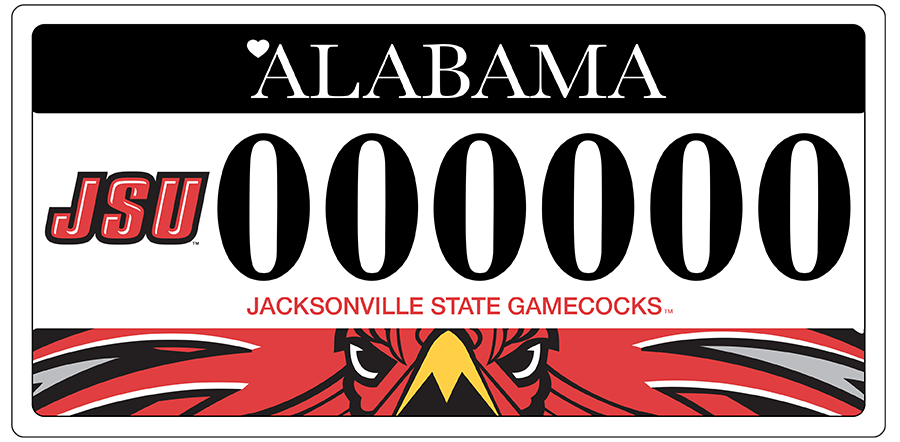 More than 4,500 votes were cast and a clear winner has emerged in JSU's search for a new design for its Alabama license plate. Design No. 1 (pictured above) captured two-thirds of the vote and will be forwarded to the state for approval and production.
Every five years, the university has the opportunity to update its Alabama car tag design. Since 1988, the license plate has featured JSU's vintage Fighting Gamecock athletic logo. The new design features a tightly cropped version of the current Gamecock athletic logo, with Gamecock eyes glaring fiercely at passing drivers. 
This marks the first time the university has given fans the opportunity to help choose the tag design. From April 23-30, students, faculty, staff, alumni and fans were invited to cast their vote online for one of three designs already pre-approved by the administration and Board of Trustees. 
"We are so excited that our Gamecock family was able to have input in the upcoming tag design," said Kaci Ogle, director of Alumni Relations. "We also want to thank everyone who purchases a JSU tag each year. Your support of the program directly impacts our students. So thank you for helping to make a difference."
Anyone may purchase a JSU license plate, regardless of university affiliation, through their local DMV. The tag costs $50 in addition to regular license plate fees, with $48.75 going directly to the university's General Scholarship Fund. The tag comes with free personalization (up to 6 alpha-numeric characters). Additionally, the annual campus parking fee is waived for JSU employees and students when registering a vehicle that bears an Alabama Gamecock tag. 
The 1,234 voters who preferred Design No. 2 may still have the opportunity to see their favorite tag on the road. The design has been selected for the State of Georgia license plate that the JSU National Alumni Association has been working to get produced. The state has already approved the plate but 1,000 tag reservations must be submitted before production can begin. Learn more here.
For more information, contact Alumni Relations at 256-782-5404 or visit www.jsu.edu/cartag.