Center for Manufacturing Support Helps Calderys Increase Production
05/13/2020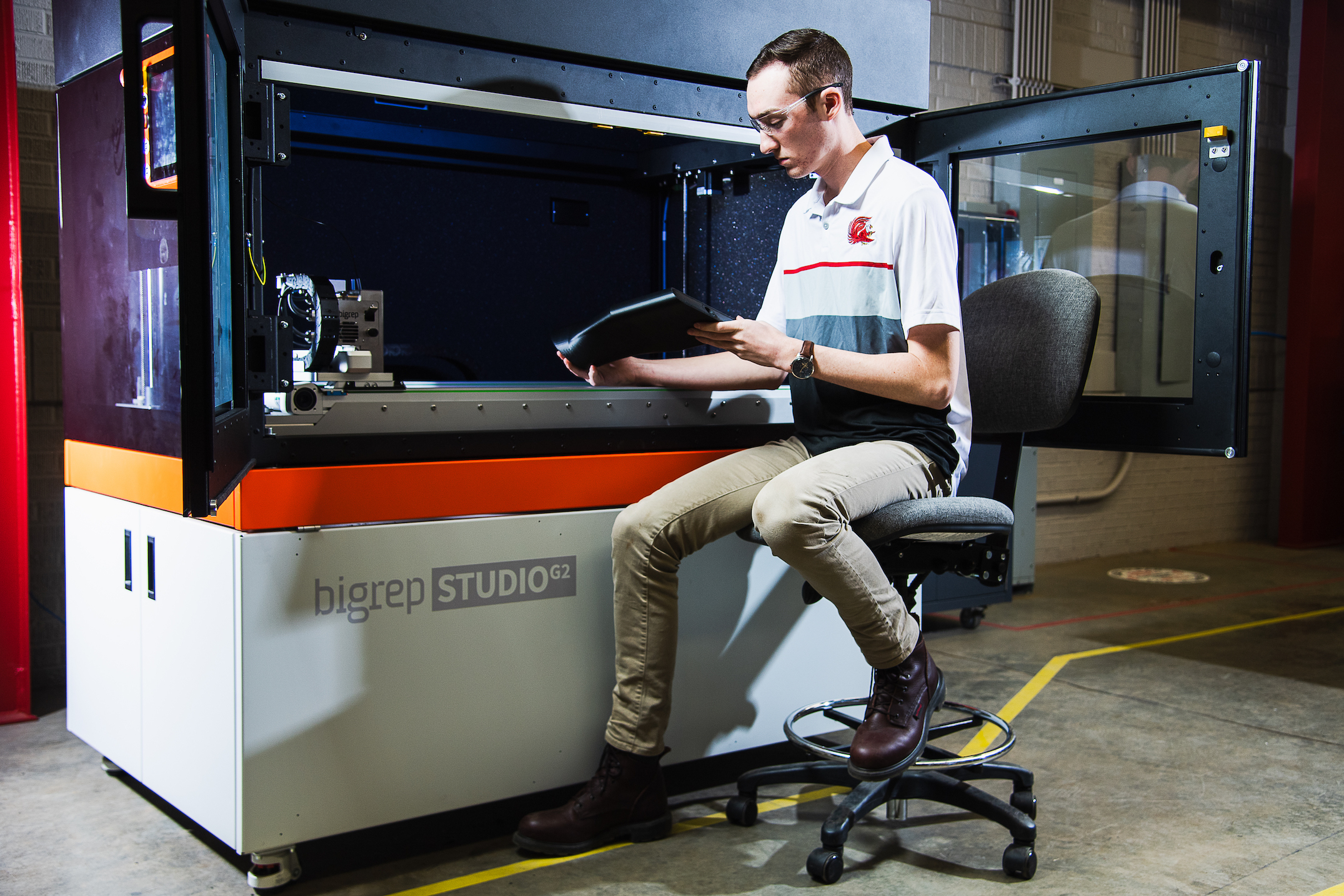 One word is all Cody Grammer, operational excellence manager with Calderys, needs to describe the company's relationship with the JSU Center for Manufacturing Support (CMS). That word is professionalism.
"From the moment we first interacted with the team at the CMS," Grammer said, "we knew right away that this team cared a lot about satisfaction for their customers and truly wanted to make a difference in the surrounding communities."
Based in Jacksonville, Calderys provides customized refractory solutions to companies around the world. Calderys is a subsidiary of Imerys, the world leader in mineral-based solutions.
"We get our raw materials from minerals that are mined from the ground from various sites across the globe and use different recipes of those minerals to create an engineered, high-performing monolithic product," Grammer said. "We then take that monolithic product and use it to create refractory shapes for our customers, mostly to line a furnace."
As part of JSU's Department of Applied Engineering, the CMS advances engineering practices in regional industries while providing practical learning experiences for JSU students. It also offers an avenue for applied research and education in areas of critical importance to manufacturing industries.
"We help them find better ways to manufacture their products," explained CMS director Matt Rosser, "and they can invest in the technology that works best for their needs."
The CMS currently employs three engineers and five engineering students. In addition to Rosser, who was named director in January, the team includes manufacturing engineers Natalia Esparragoza and William Thornton. The center has established relationships with the Anniston Army Depot, Alabama Specialty Products, Carmin Industries, Georgia Tech University, UAB and Calderys.
Grammer was introduced to Rosser and the CMS by Lorie Denton, director of business development for the Calhoun County Economic Development Council. Denton suggested that members of the Calderys leadership team attend an open house CMS was hosting. From that first meeting, a partnership was born.
"We have some of the same technology used by NASA," Rosser said. That includes laser etching and engraving, machining and fabrication, molding and finishing equipment, robotics, and 3D printers for both plastics and metals.
It was the 3D printers that were integral in assisting Calderys. In its precast shop, where the company manufactures refractory shapes, workers use a lot of molds and re-usable inserts for pouring. Because of this, numerous suppliers from all over the country provide the them with different types of inserts made from various types of material. The process requires taking the mold and the insert and greasing them up well, so the refractory will release from the mold easily. Once the material is set-up in the mold, it's removed. Sometimes these inserts are destroyed in the process and can't be reused for months. That's where CMS comes in.
"I sat down with Matt and explained to him my needs. and we came up with the idea to 3D print some inserts for some of our smaller pieces," Grammer said. "This collaboration has saved Calderys time and money by being able to have the 3D printed inserts done much quicker than we could order some from another suppliers."
With its limited amount of resources, CMS focuses on quality over quantity. "We're making sure that the projects we take on aren't the easy ones, the ones that just anybody can do," Rosser said. "We're wanting to challenge ourselves."
According to National Association of Manufacturers (NAM), manufacturers in Alabama account for 17 percent of the total output in the state, employing 13 percent of the workforce. Total output from manufacturing was $37.98 billion in 2018 with an average of 267,000 manufacturing employees.
"Alabama is a manufacturing state, and that's why we're here," Rosser said. "In this global economy, if you're not advancing, you're falling behind. Companies like Calderys are looking for someone to lean on. Someone that'll help them be more efficient."
The relationship between Calderys and the CMS is steadily evolving. "We have been able to send more detailed designs to them," Grammer said, "and they have 3D printed specifically to our engineering designs."
Calderys recently hosted the CMS team to show them its operations so they would better understand the company's needs. Calderys also offered an internship where students could spend the summer working in the precast shop.
"It is easier for us to have someone working on this full-time, because I am not able to focus solely on it," Grammer said, "and it would give the students at the CMS the ability to get some hands-on experience to carry with them upon graduation."
Obviously, it's the students who ultimately benefit from such relationships the CMS is fostering within the manufacturing industry.
"That's what it's all about," Rosser added. "The student workers are getting a valuable experience and they don't even realize it. They're getting to work with equipment and technology that's brand new, stuff they might not see anywhere else."
By educating a new generation of workers, JSU and the CMS is continuing to strengthen Alabama's manufacturing industry. "Alabama has a lot of opportunity for these types of jobs and not enough young adults to fill them."