Unique Courses Coming in 2020
04/30/2020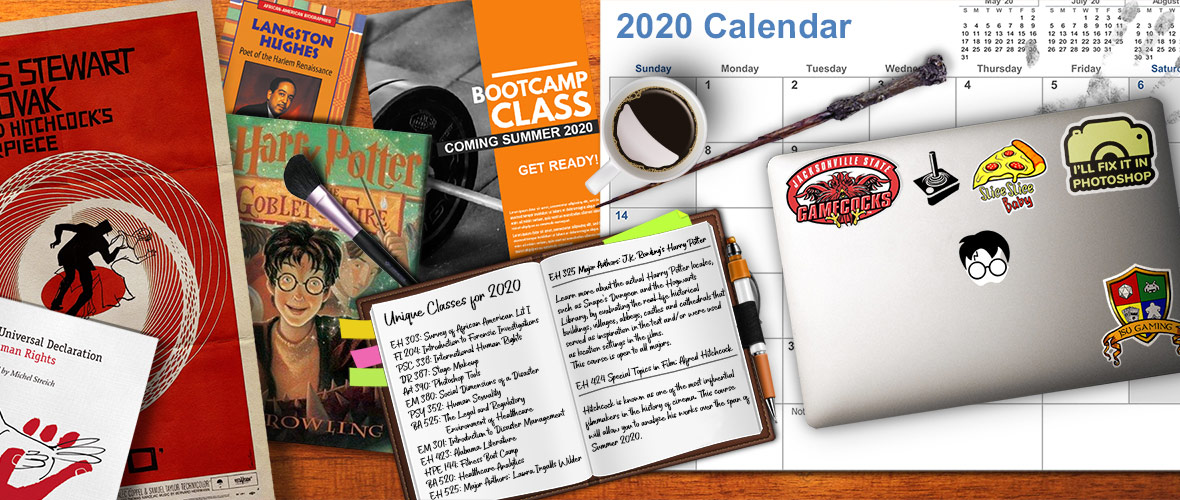 Check out one of these fresh, unique and exciting courses coming to JSU in Summer and Fall 2020. Whether you're into Harry Potter, forensic investigations, film studies, or something altogether different, here are a few classes that are anything but the "same old, same old":
EH 325: Major Authors: J.K. Rowling's Harry Potter - Learn more about the actual Harry Potter locales, such as Snape's Dungeon and the Hogwarts Library, by evaluating the real-life historical buildings, villages, abbeys, castles and cathedrals that served as inspiration in the text and/or were used as location settings in the films. This course is offered in Summer 2020 and is open to all majors.
EH 424: Special Topics in Film Studies: Alfred Hitchcock - Hitchcock is known as one of the most influential filmmakers in the history of cinema. This course will allow you to analyze his works over the span of Summer 2020.
EM 380: Social Dimensions of a Disaster - With this Summer course, you will be able to view how individuals, groups, families, organizations, communities, and countries handle disasters before, during, and after they occur.
FI 204: Introduction to Forensic Investigations - If you love criminal investigations this is the course for you! You'll be able to compare and identify physical evidence, blood and body fluids, casts and molds, detective dyes, fingerprints, and more! This class is offered during the Fall semester and is open to all majors.
Art 390: Photoshop Tools - Are you looking to learn a skill in the comfort of your own home? In this online class you will be able to develop the skills necessary for you to the make images you have always wanted using Photoshop.
PSY 352: Human Sexuality - This course will study the psychological, physiological, social, and behavioral aspects of human sexuality. Topics you learn more about will include: sexual orientation, sexual anatomy, contraception, sexually transmitted diseases, pregnancy/birth, and sexuality through the life cycle.
BA 525: The Legal and Regulatory Environment of Healthcare - Examines legal and regulatory principles and their application in the U.S. healthcare system.
EH 303: Survey of African American Literature I - A study of African American writers from Colonial times through the Harlem Renaissance.
PSC 338: International Human Rights - Through this Fall 2020 course you will be able to examines the concept and role of human rights in international affairs. Highlights the origins of human rights protections. Observes incidents involving diverse groups internationally. Studies explanations for the causes of violations. Explores recommendations to protect human rights globally.
EM 307: Pandemics & Pestilence - Students will learn how significant the burden of infectious diseases is on human populations and how pandemics occur. The course covers pandemic preparedness, response, recovery, and mitigation strategies. In addition, the economic impacts associated with pandemic events will be covered. This is a FREE elective course will be offered in both the Summer II and Fall 2020 terms.
EM 301- Introduction to Disaster Management
EH 423- Alabama Literature
HPE 144- Fitness Boot Camp
BA 520 - Healthcare Analytics
EH 525- Major Authors Seminar: Laura Ingalls Wilder
DR 387- Stage Makeup

Registration for many of these courses is open now! Search the JSU Catalog by course number to learn more. (Note: Some courses are listed with course name Special Topics)