Respiratory Therapy Program Loans Ventilators to Area Hospitals
04/14/2020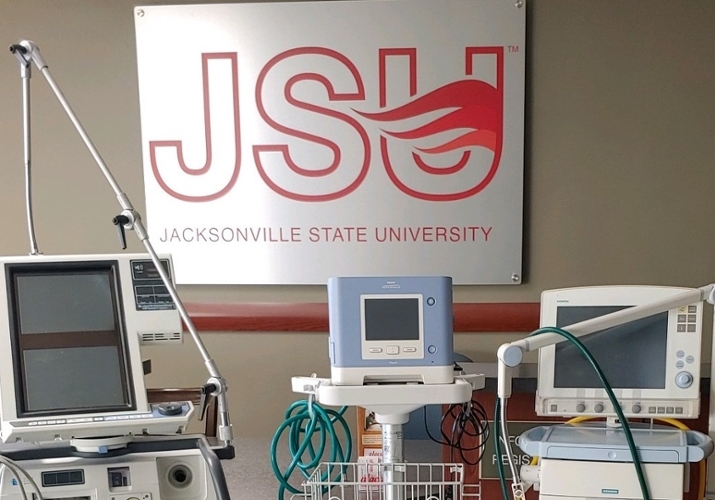 As home to Alabama's only baccalaureate program in respiratory therapy, Jacksonville State University understands the stress the coronavirus has placed upon the state's health care community. To help hospital respiratory therapy directors prepare for a surge in patients due to the pandemic, the university is loaning out its equipment to area hospitals. 
"We knew, based on national trends, it was simply a matter of time before local facilities would need more equipment," said Ed Goodwin, director of JSU's respiratory therapy program. 
 The university has loaned out the following: 
Regional Medical Center in Anniston: A Puritan-Bennett 840 ventilator, a Servo-i ventilator, and a Trilogy 202 portable ventilator 
Gadsden Regional Medical Center: A Puritan-Bennett 840 ventilator and a Philips V60 non-invasive ventilator 
UAB Hospital: A Puritan-Bennett 980 ventilator 
"These are the same types of vents that these facilities use on a daily basis," Goodwin said. "They have the same modes and abilities as the ones they are currently using."
JSU purchased the equipment to train respiratory therapy students to work in area hospitals but, with the spring semester winding down while the pandemic rages on, Goodwin said the university felt the ventilators could be put to better use out on the front lines.    
"We work very closely with these facilities on a regular basis," Goodwin said. "We cannot do what we do without their support, so we are happy to be able to help them in their time of need."
Established at the request of the health care community, JSU's respiratory therapy program began enrolling students in Fall 2017. It is the only bachelor's degree program in respiratory therapy in the state. In addition to a traditional BS program, JSU also offers a Registered Respiratory Therapist to Bachelor of Science in Respiratory Therapy (RRT to BSRT) program, fully online, to enable practicing respiratory therapists to receive a four-year degree. 
Respiratory therapy is one of the fastest growing fields in medicine and has an above-average projected job outlook according to the US Bureau of Labor Statistics. In addition to providing emergency care to patients suffering from heart attacks or strokes, respiratory therapists assist patients of all ages with chronic respiratory diseases such as asthma, emphysema, pneumonia, cystic fibrosis, sleep apnea, chronic bronchitis and – now – the coronavirus. 
This COVID-19 pandemic has put a spotlight on the profession and demonstrated the need for qualified respiratory therapists and the tools they need to do their job, like ventilators. 
"This is why we started the program at JSU," Goodwin said. "Our goal is to train future therapists who are ready to face whatever needs may arise. While respiratory therapy has been relatively unknown as a career choice, the pandemic has highlighted its importance. Hopefully, it will now get the recognition and support it deserves at the local, state and national level."  
For more information on the JSU respiratory therapy program, visit http://www.jsu.edu/respiratory.