JSU Provides COVID-19 Supplies to Northeast Alabama Police
04/27/2020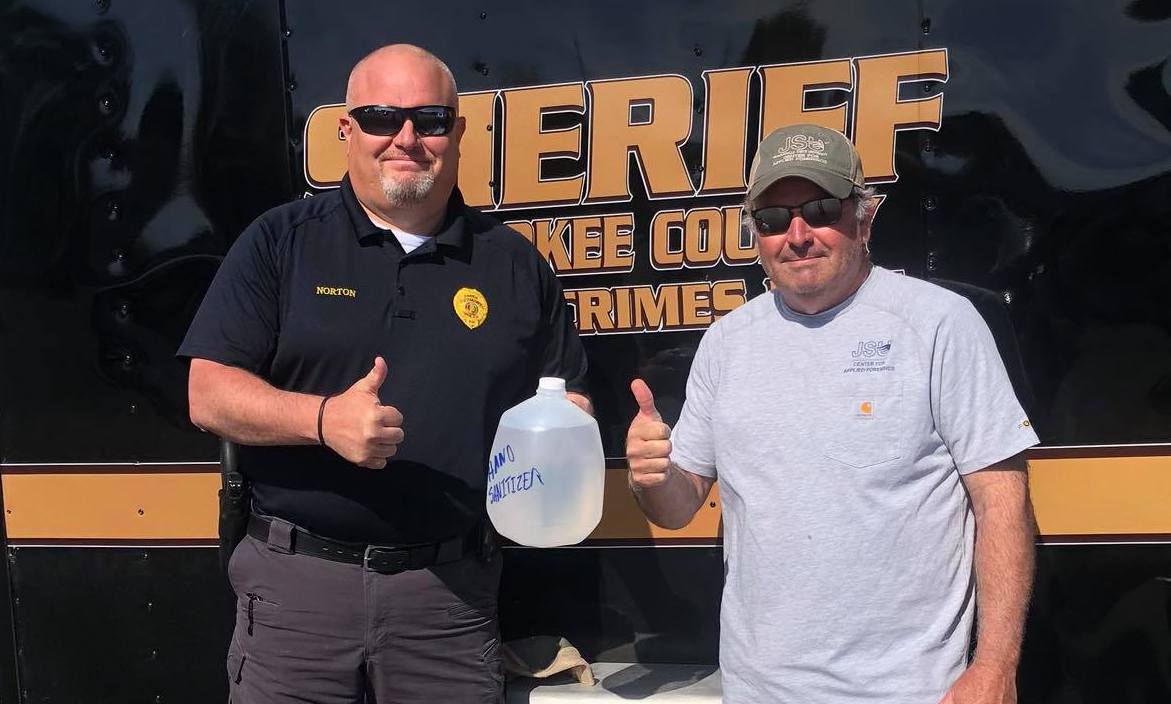 JSU's Mark Hopwood (right) provides hand sanitizer to Piedmont Police Chief Freddie Norton
JSU is helping Northeast Alabama law enforcement agencies keep officers safe from COVID-19. The university's Center for Applied Forensics and Center for Best Practices in Law Enforcement have teamed up to distribute hand sanitizer and face masks to police departments in eight counties. 
"Part of our job is to provide hands-on training to these agencies and summer is usually our biggest time to do that," said Mark Hopwood, director of the Center for Applied Forensics. "Since we can't do that this summer, we thought the right thing to do was use some of our funds to purchase them supplies. We are here to help."
Hopwood and colleagues purchased a 55-gallon drum of hand sanitizer produced by Back Forty Beer Company and divided it up into individual containers for use by agencies in Calhoun, Cherokee, Clay, Cleburne, DeKalb, Etowah, Randolph and St. Clair Counties. They also purchased and distributed 3,000 N-95 face masks, with another 2,000 on order. 
The JSU Center for Applied Forensics and the JSU Center for Best Practices in Law Enforcement work as sister centers within the university, both led by faculty from the Department of Criminal Justice and Forensic Investigation. 
The Center for Applied Forensics provides hands-on training to law enforcement agencies, particularly in rural underserved areas, in proper evidence documentation and collection. It also provides technical expertise and investigative services. The Center for Best Practices in Law Enforcement provides education, training and services for law enforcement and social service agencies, including the assessment of community crime problems and facilitating engagement between law enforcement and the community.