JSU Experts Find Creative Solutions to PPE and Hand Sanitizer Shortages
04/01/2020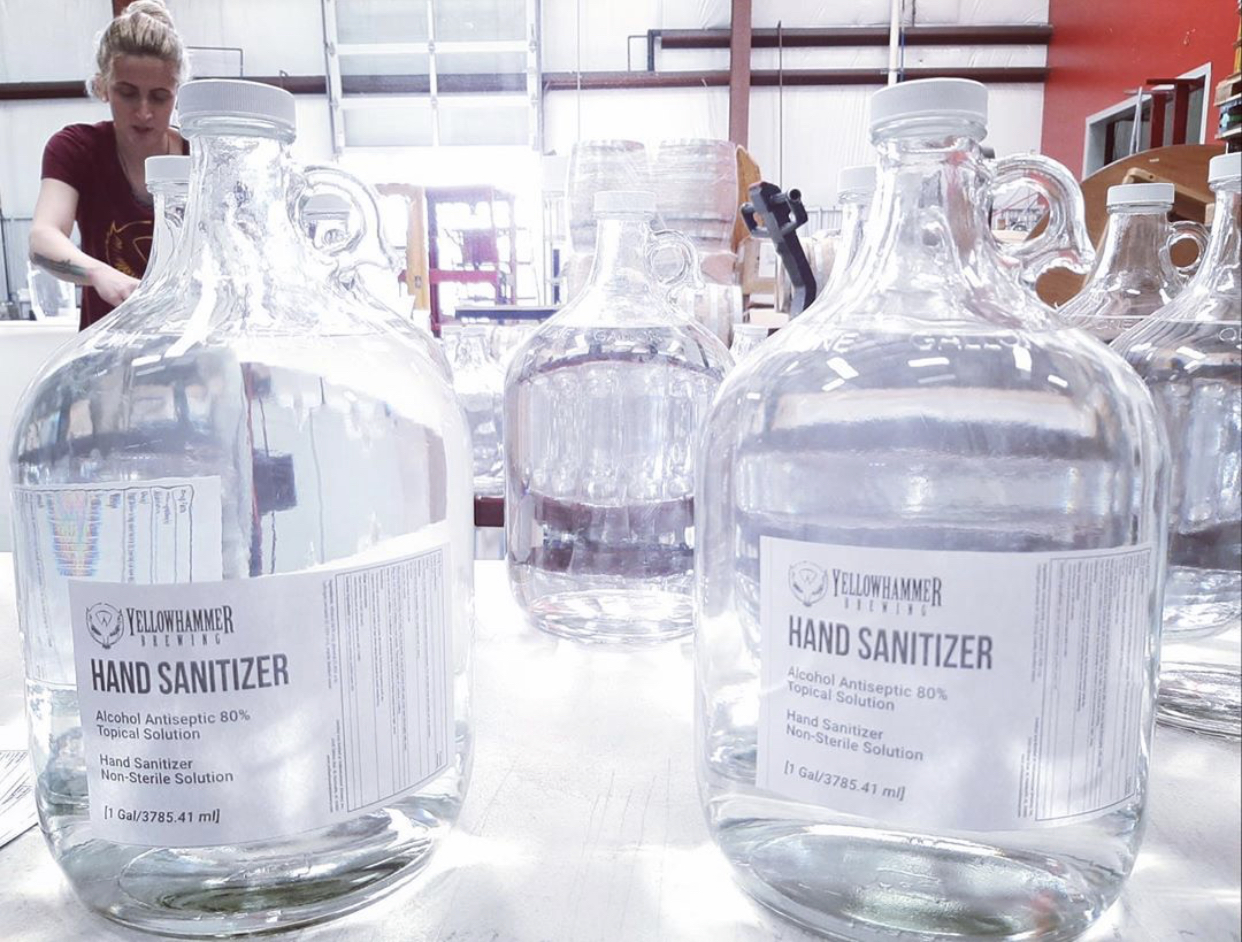 Image courtesy of Yellowhammer Brewery & Distillery.
With COVID-19 causing a shortage of Personal Protective Equipment (PPE) and hand sanitizer across the US, Jacksonville State University faculty and staff are devising creative solutions to meet the demand for these important items. 
Dr. Joshua Lang and Dr. Jan Gryko in the Department of Chemistry and Geosciences recently helped Yellowhammer Brewery and Distillery transition to manufacturing hand sanitizer at its Huntsville-based beer distillery. Over spring break last week, they volunteered to analyze the company's first batch of sanitizer to ensure it met the recommendations of the World Health Organization.   
"When we reached out to JSU's scientists, they acted immediately," said Ethan Couch, Yellowhammer's general manager. "We are truly grateful for their help analyzing our first batch of sanitizer. Their expert analysis allowed us to distribute the sanitizer confidently to those needing it most, including non-profit medical organizations, county health organizations, homeless shelters, law enforcement, utility services, and medical practices." 
Meanwhile, the JSU Center for Manufacturing Support is helping hospitals convert snorkeling masks into N95-style masks for health care workers. Using concepts developed by Prakash Lab at Stanford University, the center is using its 3-D printers to create adaptors that turn full-faced snorkel masks into protective masks for doctors and nurses.  
Center director Matthew Rosser is manufacturing plastic parts that snap inside the snorkel pipe. When fitted with normal respirator filters, which are not in short supply, the recreational mask becomes much-needed protective gear for those working closely with COVID-19 patients. 
"So far, we are only working with UAB," Rosser said. "But, if other hospitals need this solution, we can provide them with the documents and adapters so they can purchase masks and test using them for their own procedures." 
Rosser is also in the process of creating protective face shields for health care workers. Hospitals interested in learning more about the JSU Center for Manufacturing Support's PPE solutions should contact him at mrosser1@jsu.edu.  
"Serving others seems to be the theme of JSU faculty and staff anytime disaster strikes," said Provost Christie Shelton. "JSU is extremely fortunate to have experts in many areas who are willing to use their expertise to benefit the community. I am extremely proud of our faculty for assisting communities during this global crisis. JSU is about community service and community engagement, and these projects help emphasize how important that is to us."