JSU Volunteers Sew Masks for Health Care Workers
03/31/2020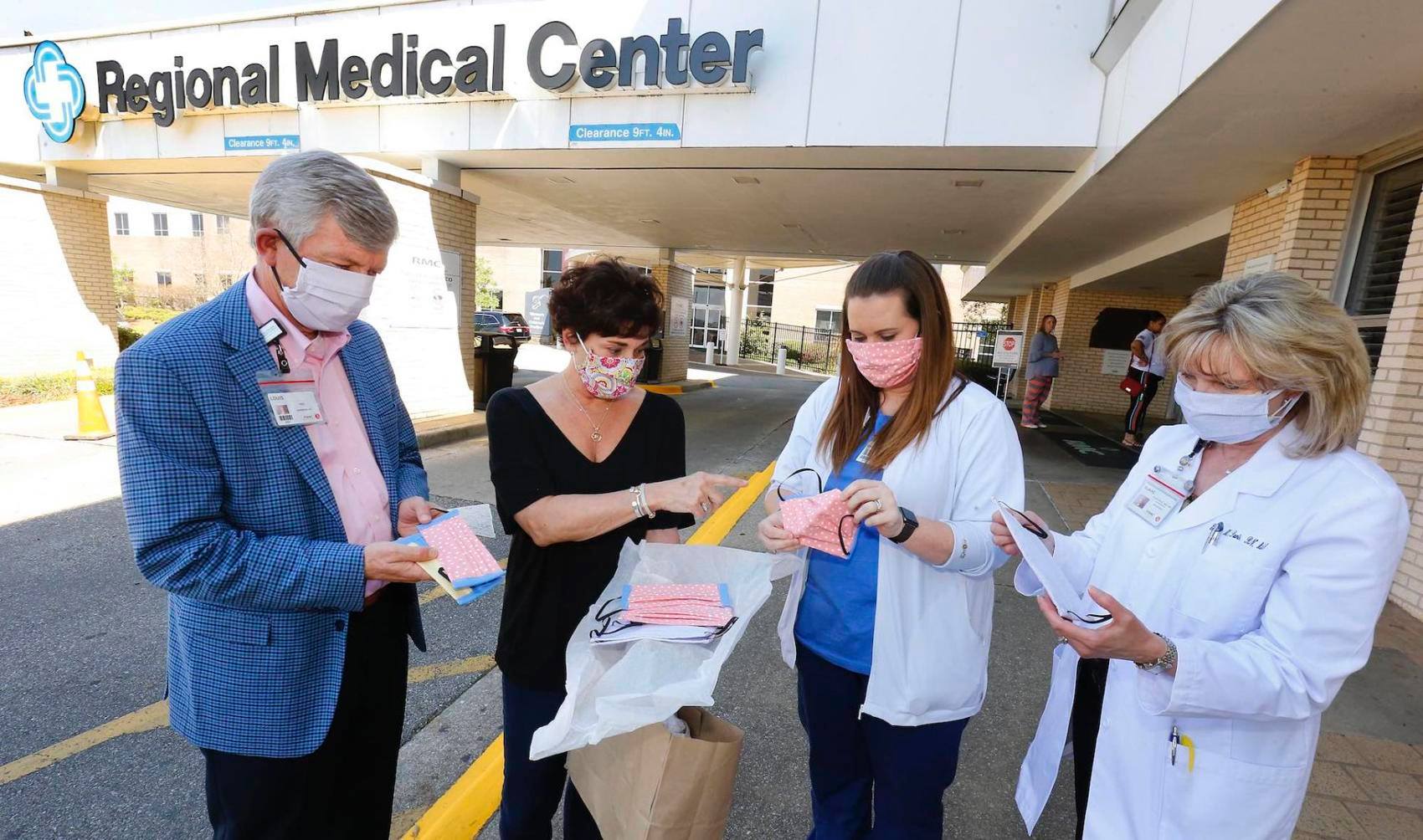 Photo courtesy of Stephen Gross, The Anniston Star.
It began as a simple post on the personal Facebook page of Dr. Allison Newton, JSU assistant professor of emergency management. About two weeks ago, she noticed requests from health care facilities for face masks scattered across her Facebook feed. She responded by posting an offer to sew a few masks for the cause.  
"I figured that I could sew 50 masks or so," Newton said, laughing. "Well, in about four hours, I had over 1,000 requests, most of which were in the Florence area. It was obviously way larger than anything I could do by myself."
With JSU's spring break on the horizon, Newton reached out to her colleagues – stuck at home this year due to social distancing – and posted a call for volunteers on a private faculty message board. The response was immediate. 
Since March 22, the group has sewn nearly 500 surgical masks, delivering 100 to Anniston's Regional Medical Center, 75 to Stringfellow Memorial Hospital in Anniston, 90 to Gadsden Regional Medical Center, 50 to NHC Place Anniston, 50 to Legacy Village of Jacksonville and 30 to Barfield Health Care in Guntersville. The current list of mask requests exceeds 1,200, with deliveries scheduled for Citizens Baptist Medical Center in Talladega, Col. Robert L. Howard State Veterans Home in Pell City and other health care facilities.
Newton is quick to point out that the masks are not proven effective in preventing the spread of COVID-19. "Most of the doctors and nurses that we've delivered to, they have the disposable masks and put these masks on top of those," she explained. "These are providing an extra layer of protection and extending the life of the masks they're already using."
The hand-sewn masks are based on designs released by craft company Joann Fabrics, which has started a nation-wide campaign to get sewing kits into the hands of volunteers. The fabric the group is using is 100 percent cotton, triple-layered, quilting-weight material or unbleached muslin. The masks must be pre-washed and dried before they can be used, to ensure there is no shrinking. 
The process for making the mask is approved by the Centers Disease for Control and Prevention. "I use that phrase very lightly," Newton said. "But we feel very comfortable that we're using the right materials. We've delivered to several hospitals and nursing homes and they've all been very pleased."
Each mask takes 30-35 minutes to create – from cutting out the pattern to finished product. That means more than 250 hours of work have gone into the project so far. Newton estimates that there are between 20-25 volunteers sewing the masks, with the same amount cutting patterns, washing and drying, or delivering masks to local hospitals. 
The project has grown beyond JSU. The Alabama Mask Sewers Facebook page has been created to recruit volunteers throughout the community. The JSU Foundation has also gotten on board, covering the cost of some materials. Get Personalized, a Jacksonville area business, donated yards of fabric and members of the community have donated materials as well. Much like what happened in the aftermath of the tornado that hit Jacksonville two years ago, in times of need, people want to help.
"It's just what you do," Newton said. "We pull together and do whatever we can for this community."
Those looking to donate time, skill or materials should visit the group's Facebook page or contact Newton at anewton@jsu.edu.