Students Present Research at Annual Symposium
02/21/2020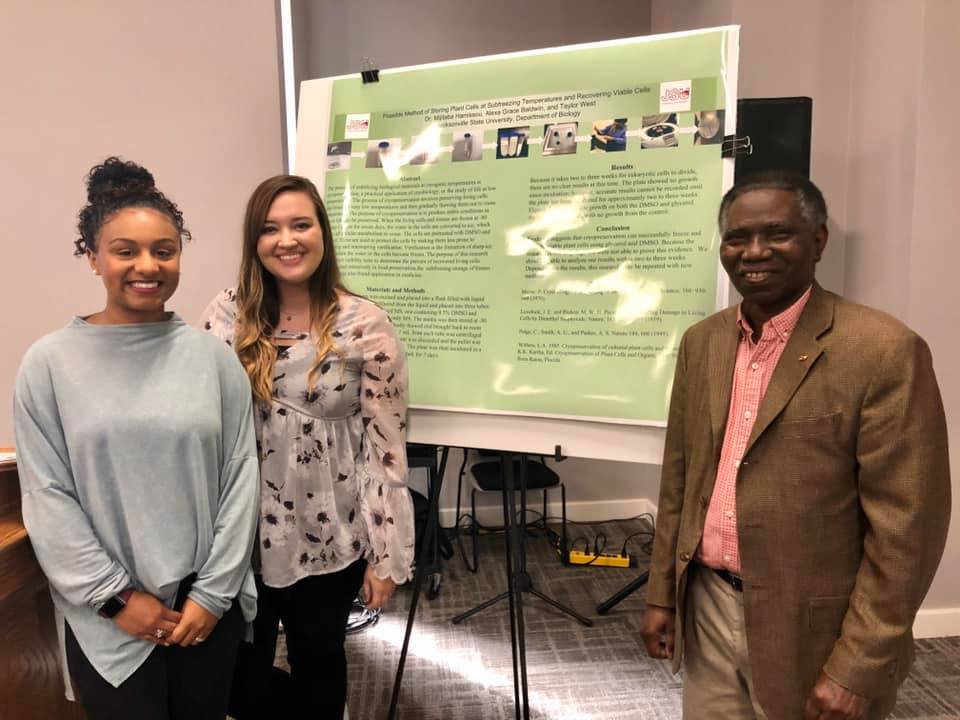 More than 50 research papers, posters and projects were presented at the 2020 JSU Student Symposium on Feb. 12-14. Established in 1995, the university-wide event spotlights the academic work of undergraduate and graduate students.  
Organized this year by Dr. David Thornton, associate professor of computer science, the event gives students the opportunity to step outside the confines of the classroom and present their research projects in a professional setting. 
The following awards were presented at the end of the three-day event:
BEST OF SCHOOL
School of Science
Undergraduate: Caleb Hudson, "Unraveling R44P: A SLC6A1 Variant Which Induces Childhood Epilepsy"
Graduate: Andrew Shirley, "Toxicity of native and invasive apple snail egg proteins on developing Xenopus laevis"
School of Human Services and Social Sciences
Undergraduate: Kaitlyn Williams, "What's Your Type? The comparison of the Myers-Briggs Type Indicator and the Howell Enneagram Test"
Graduate: Brett Johnson, "Positive and Negative Aspects of the United States Social Security Program"
School of Arts and Humanities
Undergraduate: Miranda Ivey, "Andy Warhol's Influence in the American Pop Art Culture"
Graduate: Karine Parker, "How UI/UX Principles can be applied to non-traditional projects in an academic-centered environment
BEST PAPER
Undergraduate: Olivia Sims, "A Discussion of the Guggenheims: The Links between the Solomon R. Guggenheim Museum and the Guggenheim Museum Bilbao"
Graduate: Alex Rocco, "Battle of the Benthic: Comparing Aggression Differences Between a Native and Invasive Species"
BEST POSTER
Undergraduate: Shelby Harris, "The role of SLC6A1 Variant 468 C R in Myoclonic-Atonic Epilepsy and Autism"
Graduate: Emily Hamilton, "Generalist Practice With Individuals, Families, and Groups: Competency Implementation and Evaluation"
BEST COVER DESIGN (for design of symposium program cover)
HOUSTON COLE LIBRARY AWARD FOR RESEARCH EXCELLENCE 
Claire Behan, "The Burnout of Student Athletes"
BEST OF SHOWCASE
Melanie Spaulding, "Flora of Cleburne County, Alabama"
View student presentations on the Symposium's YouTube channel. All students are invited to submit proposals for the annual symposium. Applications will open for the 2021 event in December.