Get in the Game with JSU's Top-Ranked Sport Management Degree
02/01/2020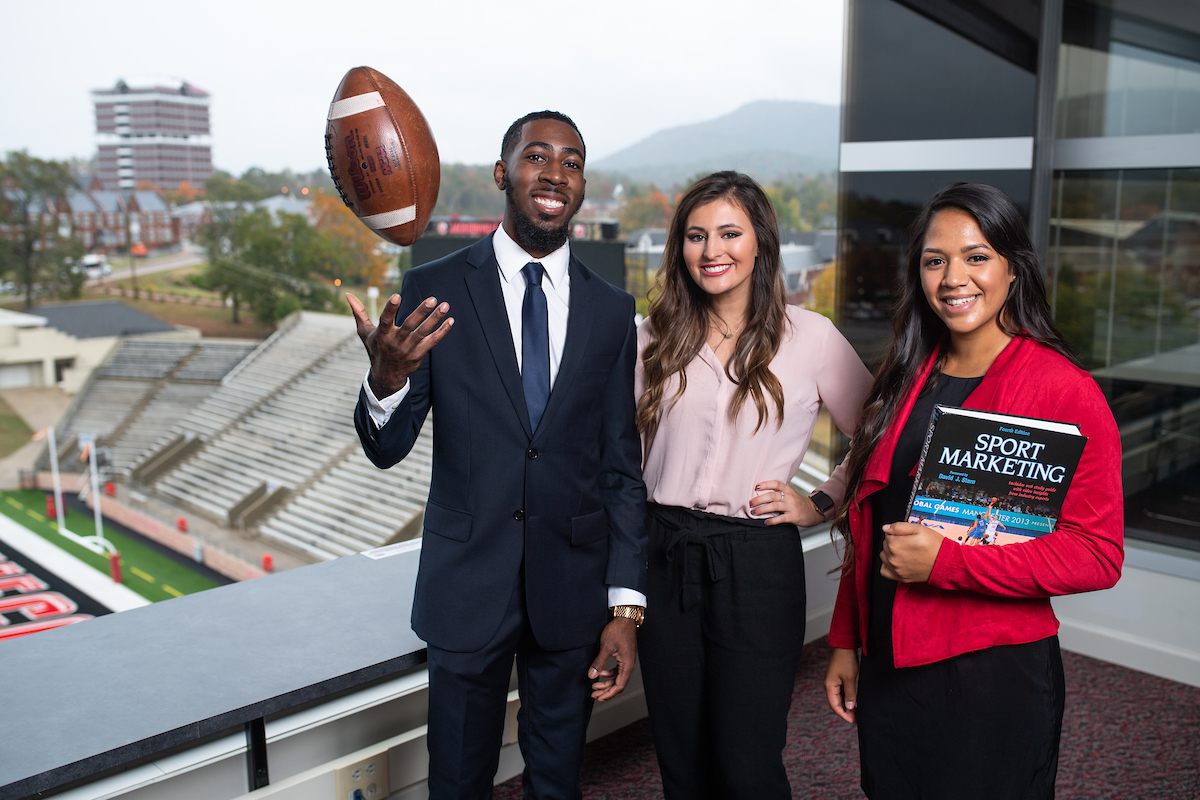 When Dr. Reggie Overton came to JSU to oversee the sport management master's program six years ago, only five students graduated during that academic year. In 2019, that number grew to 25.
"We know we're doing things the right way," Overton said, "and it's starting to show."
Overton always speaks of sport management's success with the pronouns "we" and "us" leading the way. He knows that in order for this program to continue to thrive, it will rely on team work.
"We've got an amazing staff here at JSU," he said, "and we're always trying to do better."  
The sport management master's degree program is gaining recognition well beyond campus. It was recently ranked No. 3 in the nation by Intelligent.com, as well as No. 1 among public universities. 
"That was huge," Overton said. "We beat Troy and Alabama and Auburn and Ohio University, all these big-time schools. We're proud of that." 
The 10-course program, which is taught completely online, requires 30-33 credit hours with core topics that include law and ethics, sport management, public and media relations, finance, promotion and event planning, to name but a few. 
But it's arguably the program's required internship that is its greatest selling point. Sport management students have been placed with some of the nation's top teams and programs. 
"We've sent interns to work at Talladega, the Houston Texans, Georgia Tech, the Nashville Predators," said Overton. "They're in a field they love, which is great, but more than that, they're getting their foot in the door. That's where they find their network and eventually find a job."
And find jobs they do. Within six months, according to Overton, more than 90 percent of JSU's master's students have jobs in their field of study. A graduate's career opportunities seem to be limited only by their imaginations. The program prepares students for jobs in a number of fields, including: 
professional athletic organization management
sports marketing and advertising
event and facility management
strategic planning and finance
athlete management and talent development
university athletic directing
sports journalism
coaching
When Overton was working toward his EdD in sport management at Temple University, a mentor gave him some advice that now seems prophetic. 
"He told me, that if you put the word 'sport' in front of any noun, you'll have a niche," Overton said. "That's certainly true today." 
According to Statista.com in 2018, the North American sports market – which is composed of gate revenues, media rights, sponsorships, merchandising, etc. – had a value of about $71.06 billion. That figure is expected to rise to $83.1 billion by 2023. 
"The career opportunities are there," Overton said. 
While it helps to have a passion for sports, it's also important that students keep an open mind. Sure, working for the New York Yankees may be a dream job, but it's far from the only job.
"I sometimes have to rein them in a little bit," Overton said of his student's enthusiasm for sports. "They'll say how much they love sports, which is great, but then it becomes understanding what it is about sports that they love. They have aspirations, but to get where they want to go, they will have to pay their dues."
That also means being willing to relocate.
"You have to be willing to move where the jobs are," Overton said. "That's the first thing I tell them. Jacksonville is a wonderful area, however, being open to relocation improves your marketability tremendously." 
Another area of consideration is the Special Olympics, which is an organization that's not on the radar of many students yet offers "a great opportunity," Overton said. "Simply put, there's more out there than football, baseball and basketball. Giving them the big picture is part of my job." 
Just as the money behind sports continues to increase, so too do the niche areas of study that programs such as JSU's must monitor.  
"We have to stay current with what's going on out there – what teams are doing, what's changing," Overton said. "Our students are expected to go out and do their research – not after they graduate, but before – to have a better understanding of what type of career opportunities are out there. This is a multi-billion-dollar industry, so it's important to put as much in front of our students as possible to help them succeed."
One area where Overton and the sport management staff have focused is with teachers. JSU is one of only three universities in Alabama that offers a Class A teaching certificate with sport management.
"We're trying to do a better job of marketing to the teachers of Alabama," Overton said. "There's a huge market for teachers who would love to come here and have a chance at getting a better job or higher pay, and that's a group we need to reach more." 
Overton said he is also working to attract more international students to the program.