Gamecocks Have Heart: Students Give Back on Valentine's Day
02/14/2020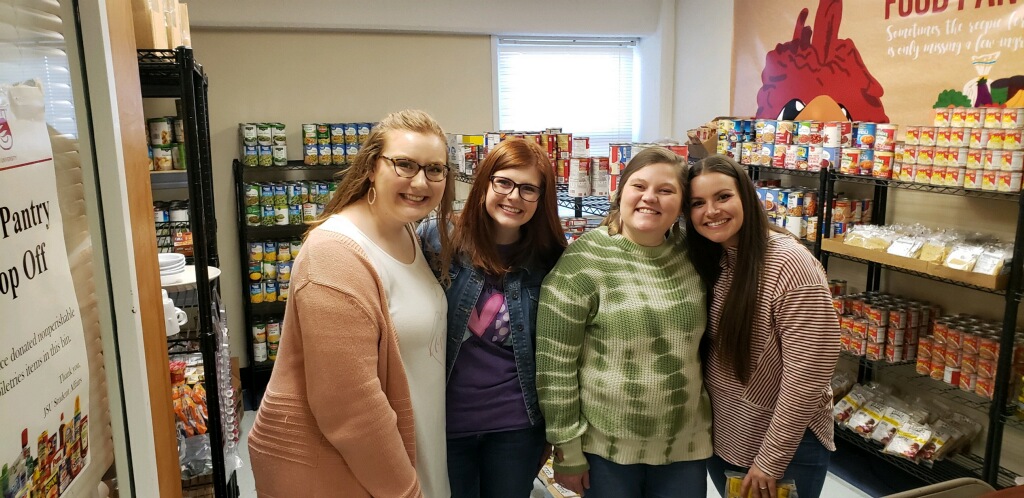 The 24 students in Deidra Foote's "Social Studies Methods" course, EED 343, spent Valentine's Day dropping off donations at the JSU Food Pantry as part of a class service project. The elementary education seniors - who are a semester away from graduating and entering the classroom - have been learning how to teach their own students to become active and informed democratic citizens. 
"It's service learning in action," said Foote, an adjunct instructor in the Department of Curriculum and Instruction. "A huge part of being a good citizen is giving back. I hope they have all learned something valuable from this service that they will then pass on to their students."
In addition to studying social studies teaching methods and researching history and culture, the future teachers collected more than ten boxes of nonperishable food items and toiletries for the campus food pantry - from ramen noodles and peanut butter to toilet paper and paper towels. 
As part of its efforts to combat student hunger on campus, JSU established the Gamecock Food Pantry in 2017. Located in the basement of Sparkman Hall, the pantry is open to all students on Tuesdays and Fridays from 1-3 p.m. or by appointment. 
"I hope they have found value in this very meaningful service," Foote said. "Whether you give back to your campus community or local, state, national or global community, giving back is important. They have been very generous with their time and effort and I applaud them." 
The JSU Food Pantry accepts donations of nonperishable items and toiletries, which can be dropped at Bibb Graves Hall, Room 103. For more information, contact JSU Housing and Residence Life at 256-782-5122.