Full Circle: Mentee Becomes Mentor
02/01/2020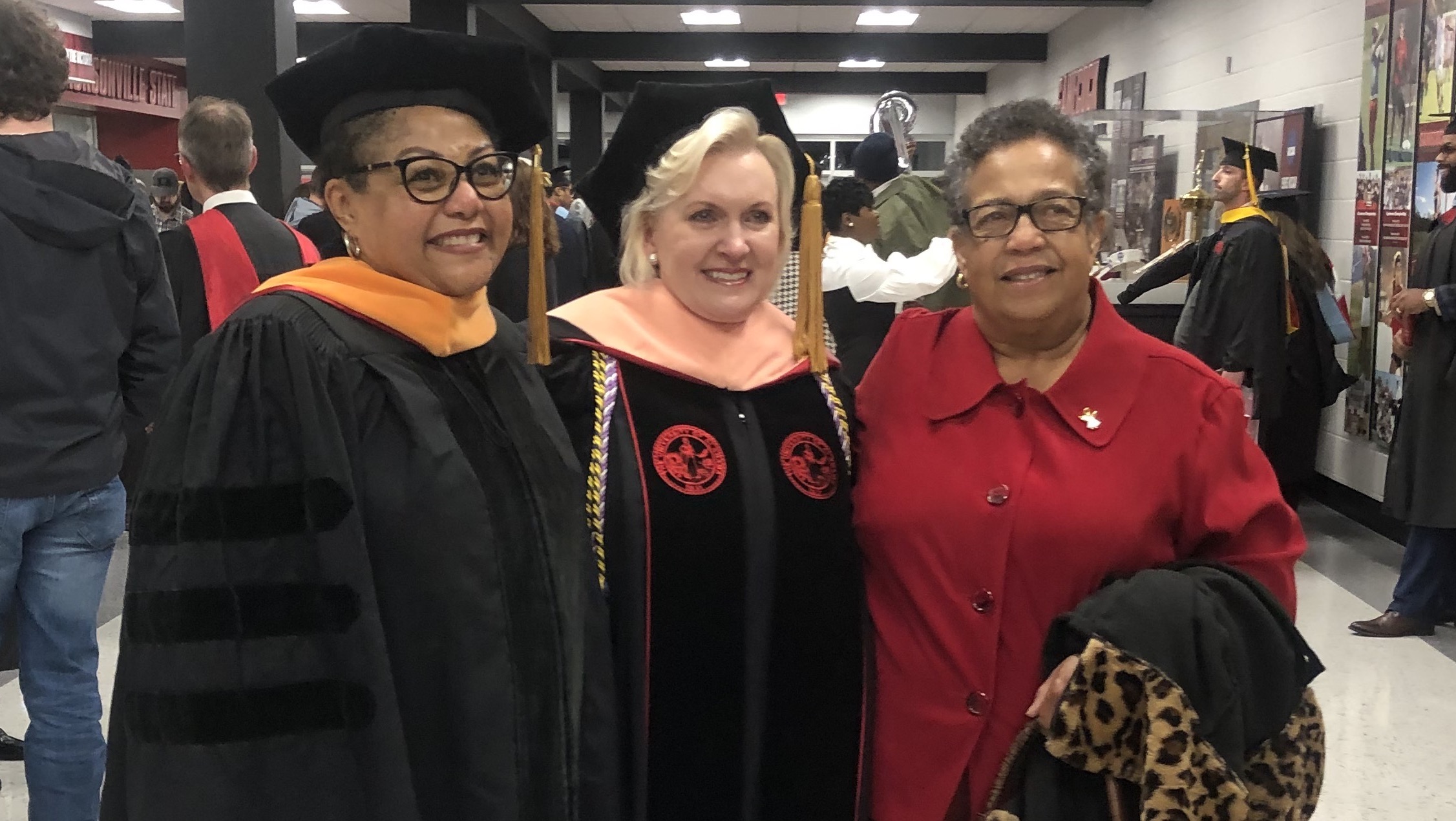 When Dr. Leigh Ann Keith saw Fay Collins for the first time in more than 20 years, tears were inevitable. 
Today, Dr. Keith is a JSU associate professor of nursing and the track coordinator of the Post-Master's Doctor of Nursing Practice (DNP) program. Back in 1983, however, she was a new nurse working her first job at Citizens Hospital in Talladega. That's where she met Collins, an experienced nurse who took her under her wing.
"I was so nervous being a new nurse, worrying that I didn't know how to do certain procedures" Dr. Keith said. "Fay was such a calming influence. She was organized, relaxed, and patient with me. She really took the time to show me how to do things the right way. She taught me what it means to be a nurse."
Though Collins remembered Dr. Keith as "one of her favorites," she was surprised to learn the important role she played in another nurse's life.
"I didn't know I made that kind of impression," Collins said with a laugh. "That's just me. That's how I was – like a mother hen. I wanted all my nurses to be the best, to have compassion and love for everybody."
Their reunion was all the more emotional because it took place during JSU's December graduation, where Dr. Keith hooded Vandalyn McGrue, Fay Collins' daughter, with her DNP degree.
"I like to think of it as paying it forward," Dr. Keith said. "I don't think I've gotten the chance to properly thank her for all she did, and I don't think she realized what she has meant to me – this gave me the chance."
McGrue also received her bachelor and master's degrees from JSU.
"I knew the school was awesome," McGrue said. "The atmosphere of a family-oriented campus is what I desired. Being part of the first cohort for their DNP program was truly an honor."
McGrue comes from a family of health care professionals that includes her mother and aunt. She's currently the chief nursing officer at the same Talladega hospital where her mother worked and met Dr. Keith, Citizens Hospital.
"My mom started her career at the same small hospital when I was four years old," said the 51-year-old Dr. McGrue, who's been a nurse for 28 years. "You can say, I wanted to follow in my mom's footsteps, but I also followed in my dad's because I served four years in the United States Air Force as Captain Collins."
Dr. Keith didn't know Dr. McGrue was a nursing student until recognizing her name among those entering the DNP program. It was during orientation that Dr. Keith asked if Fay Collins was her mother. It was the first time the two met. Eventually, Dr. Keith would serve as McGrue's faculty chair for her DNP project.
"It was such an honor to me," Dr. Keith said. "I wanted to help her with her doctoral work. It was my way of repaying what her mother did for me."
To have Dr. Keith as a mentor was special to Dr. McGrue as well.
"It was priceless," she said. "Words cannot truly express how I felt."
Dr. Keith remembers Collins' smile most of all. She said her mentor never had an unkind word to say about anyone. Later, she saw many of the same qualities in her daughter.
"She's always smiling, always positive, always happy," Dr. Keith said. "She's always striving to do her best in everything, just like her mother."
To watch her daughter graduate was a moment Collins, who spent 38 years as a nurse before retiring in 2008, will never forget.
"It was such a great feeling," Collins said. "I laughed. I cried. Everything came full circle."