JSU Music Academy Offers Lessons for All Ages
01/21/2020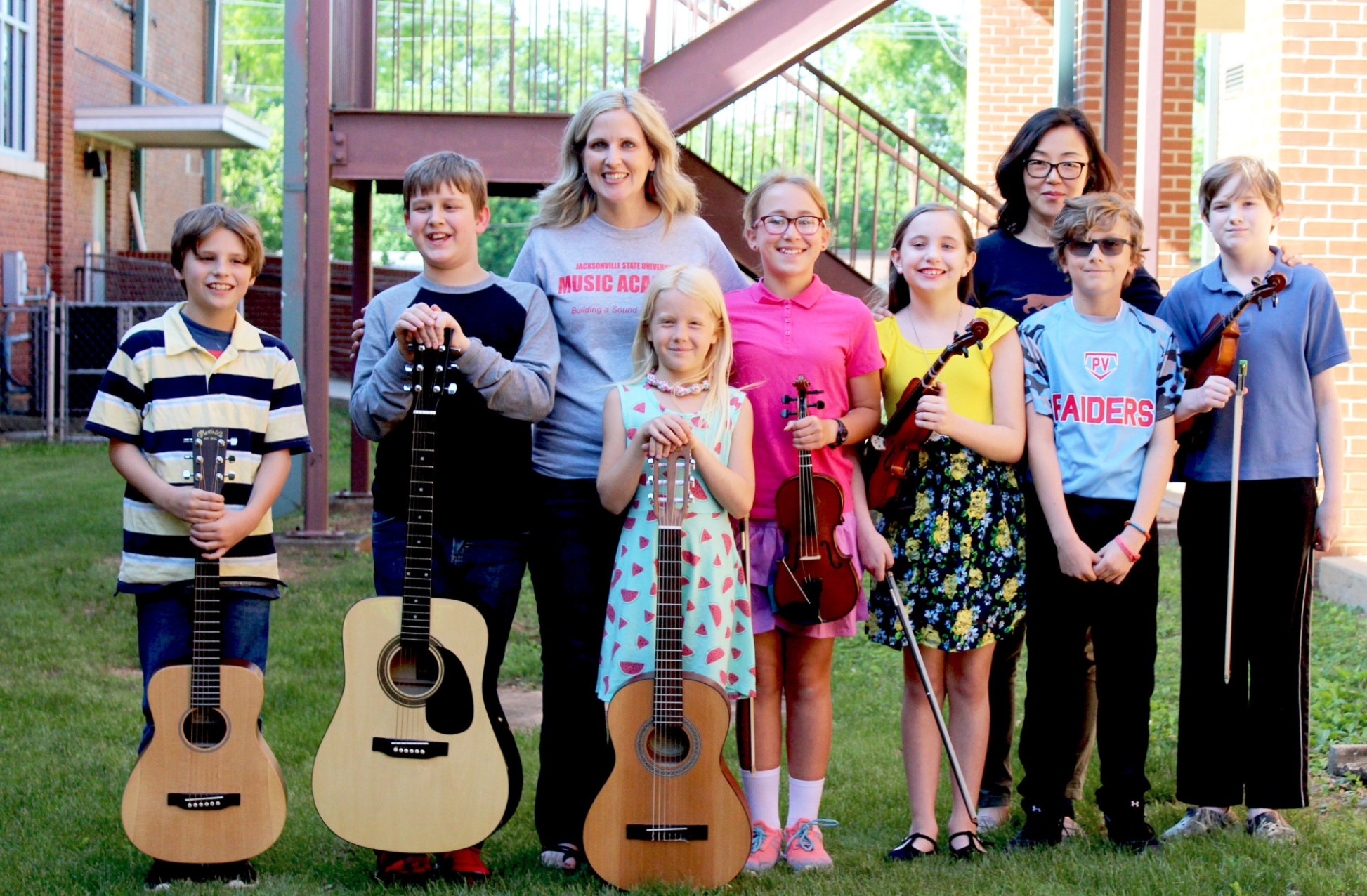 In the three years since its inception, JSU's Music Academy has become a success because of a simple guiding principle: Music improves lives.
"There's a joy in what we do," explained Wendy Freeland, a JSU music professor and director of the academy. "Parents and grandparents want the joy of music-making for the young people in their families. Adults often regret not having learned an instrument when they were young, and they desire this opportunity for their kids. Many families are looking for creative outlets for their kids, and the academy fits the bill."  
Since the fall of 2017, the Music Academy has offered affordable group and individual classes in guitar, ukulele, violin, cello, piano and voice to young aspiring musicians in and around Jacksonville. The 14-week semester of classes is geared mainly toward 3rd through 12th grade students with little to no playing experience, but advanced and adult classes are also available. Lessons are $200 for the full 14-week session plus a $25 registration fee.
The Music Academy had its genesis in the JSU Music Preparatory Program. Opening in 2006, the Preparatory program offered affordable lessons initially in piano to members of the Jacksonville community. Classes were taught by JSU music majors with a specific concentration in those areas.
"This served as a type of lab for the piano majors, as I would guide them in choosing materials, observe their lessons and give them feedback," Freeland said. "I believe that teachers learn to teach largely through the act of teaching. This program grew to offer lessons in voice, guitar and violin as well." 
Between 2006-2015, 21 teachers and hundreds of students participated. The program went on hiatus because Freeland wanted to make some improvements. JSU music alumna Estefania Wilcox returned to Jacksonville after completing her master's degree in music at the University of New Mexico. Wilcox and Freeland joined forces to form the JSU Music Academy in 2017.  
Last semester, 40 students enrolled in the academy.
"The program has met and exceeded my expectations," Freeland said, "because the timing has been right, and the teachers are good."  
In these classes, joy and praise are given in equal measure.
"We teachers strive to create a fun, encouraging environment," Freeland said. "Making music should not be a scary experience, but a satisfying one. Playing an instrument supports personal wellness. It satisfies the ears, the brain, the spirit and the body. It teaches confidence and achievement by showing one how to accomplish a goal step-by-step, over time."  
It truly is a shared experience, Freeland added.
"Students of the academy enjoy the aspect of communication through music," she said, "as they play ensemble pieces together, each having an important part, and perform pieces for their families and friends at end-of-the-semester Sharing Days."
The Academy Choir will start in the fall of 2020, providing area high school students who are interested in choral music a jumpstart on performing serious choral literature.
All classes are led by masters-level instructors.
"The energy and care given by the teachers is excellent," Freeland said. "The teachers in the academy are ones who have a heart for teaching young people. They are also ones that like the group setting. Though many teachers are inspired by the more-practiced, collegiate-level student, many are inspired by young people just discovering music and their musical voice through a particular instrument."
For these teachers it is more than an excellent finished product they seek, Freeland said.  
"They want to see progress and enjoyment," she said. "Seeing students continue, improve and grow as people is what the JSU Music Academy is all about."
For more information, visit https://jsumusicacademy.com/