Campus Food Pantry Joins Statewide Coalition to Fight Student Hunger
12/11/2019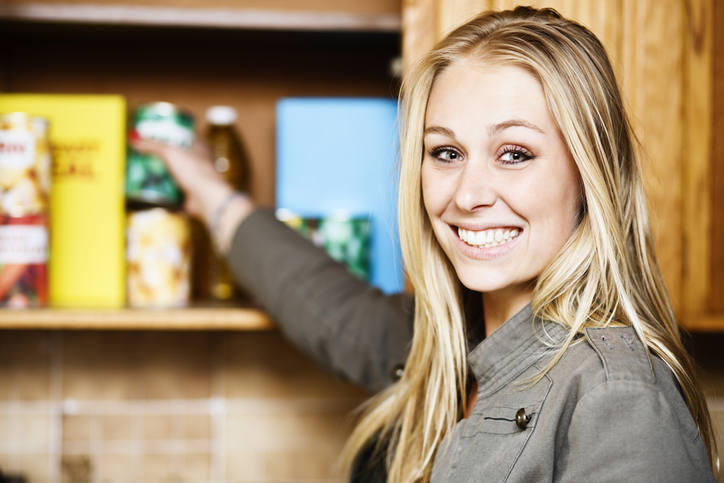 JSU is one of 10 Alabama universities to be included in a $500,000 grant award that will be used to combat a hidden hunger group – college students. 
The grant was awarded to Auburn University's Hunger Solutions Institute by the nonprofit Educational Credit Management Corporation, which oversees student loans for the US government. The grant will support the Alabama Campus Coalition for Basic Needs, a 10-university partnership that aims to give all students access to healthy foods. 
"We think this is a good opportunity to meet with other institutions in the state and share successful strategies to assist students with basic needs," said Rochelle Smith, director of Residence Life at JSU and Gamecock Food Pantry coordinator. "The goals of the coalition are to increase awareness of food insecurity on college campuses in Alabama, to develop campus coalitions and to lead the implementation of strategies to decrease food insecurity on college campuses in Alabama."
The USDA defines "food insecurity" as the limited or uncertain availability of nutritionally adequate and safe foods or limited or uncertain ability to acquire acceptable foods in socially acceptable ways.
"Food insecurity is becoming more prevalent at universities across the board," Smith said. "Like most college campuses, we have witnessed students who need assistance with some type of basic need. We don't want food insecurity to hinder or negatively impact the academic success of any student."
Food insecurity on college campuses is still a vastly understudied issue. Last year, the US Government Accountability Office, or GAO, published the 2018 Report on College Student Food Insecurity, the first federal effort to understand the scope of food insecurity on college campuses. Of the 31 campuses studied, 22 reported food insecurity rates of more than 30 percent.
Each university in the Alabama Campus Coalition for Basic Needs will assess the scope of food insecurity and available resources on its campus. This information will help them develop a campus action plan that can be implemented starting next summer. Researchers will evaluate each university's work based on changes in food insecurity prevalence, campus resources and student outcomes. 
The initiative will share information from the data on best practices, which can be scaled to universities and colleges across the nation to use in the pursuit of zero hunger campuses.
As part of its efforts to combat student hunger on campus, JSU established the Gamecock Food Pantry in 2017. Located in the basement of Sparkman Hall, the pantry is open to all students on Tuesdays and Fridays from 1-3 p.m. or by appointment. 
"We will also work around students' schedule," Smith said. "They can set a convenient time to come to the pantry that works best for them." 
The pantry accepts donations of nonperishable items and toiletries (see below) which can be dropped at Bibb Graves Hall, Room 103. Donations are also being collected at the employee holiday party on Dec. 16 at Leone Cole Auditorium. 
"Creating awareness is a huge step," Smith said. "I think generally people want to help but if they are not aware of the need, they can't offer assistance. Being a part of the Alabama Coalition will help us succeed in the goal of making sure we can assist with some basic needs so that students focus on their academic success."
In addition to JSU, members of the coalition include the University of Alabama at Birmingham, Alabama A&M University, Alabama State University, Auburn University, Troy University, Tuskegee University, University of Alabama, University of North Alabama and the University of South Alabama.
The Gamecock Food Pantry is seeking the following donations this holiday season:
Non-Perishable Food, including: 
Fruit cups
Cereal
Oatmeal packages
Packaged meat (such as tuna and chicken)
Peanut butter
Jelly
Crackers
Ramen noodles
Mac and cheese, microwavable cups
Microwavable, ready-to-eat meals
Mashed potatoes, microwavable
Popcorn
Snack foods 
Toiletries, including:
Laundry detergent
Dish detergent
Toilet paper
Paper towels
Cleaner/disinfectant wipes
No canned vegetables, please.
For more information, contact JSU Housing and Residence Life at 256-782-5122.