Unique Courses Coming in 2020
11/14/2019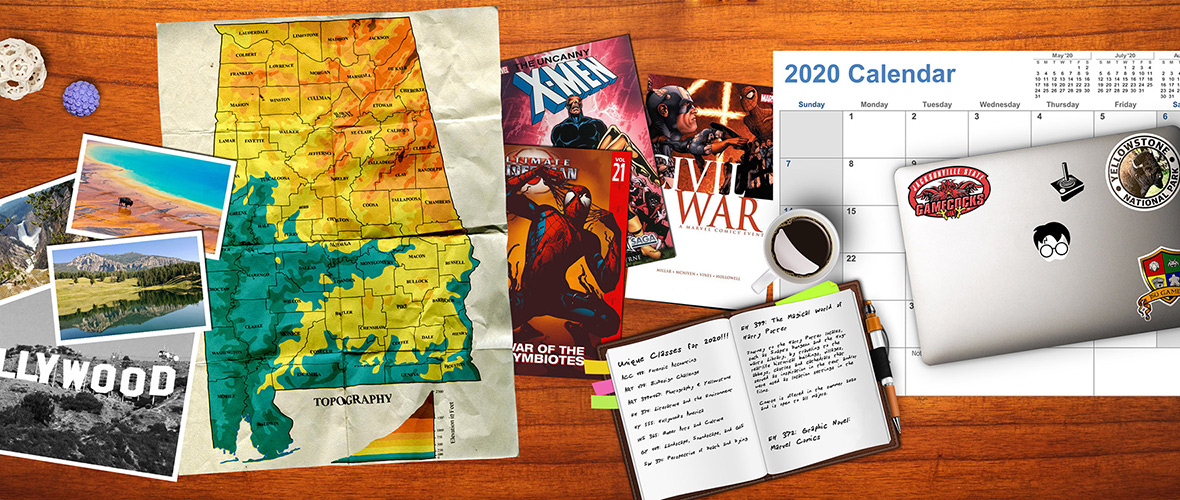 Listen up, muggles. We know that by this time in the year coursework can seem so boring that you'd swear a Dementor is about to suck the life out of you. But there is a way to break the late semester sleeping spell!
Check out one of these fresh, unique and exciting courses coming to JSU in Spring and Summer 2020. Whether you're into Harry Potter, Marvel comics, nature photography or something altogether different, here are a few classes that are anything but the "same old, same old":
EH 372- Graphic Novel: Marvel Comics
Dedicated to selected writers, themes, genres, countries (manga, mania, bande designee, etc.) or a survey of the medium as a whole. May be duplicated for credit for a total of six semester hours as long as each course taken is on a different social topic.
GY 409- Landscape, Soundscape, and GIS
This course explores the reciprocal relationship between geography, sound, and place. A study of landforms and landscapes drives the examination of topographic features and their representation.
HY 555- Hollywood's America
This course explores the ways in which popular Hollywood films construct the historical past, the ensuing battles among historians and the public over Hollywood's version of American history, and the ways that such films can be utilized as historical documents themselves.
INS 365- Special Topics: Queer Arts and Culture
An interdisciplinary approach to a particular topic, problem, period, genre or personality. Content varies from semester to semester according to student and faculty interest.
ACC 488- Forensic Accounting
This course examines the concepts and skills of forensic accounting and fraud investigation. This includes the role of the forensic accounting skills necessary to assist organizations in the prevention, investigation, and detection of fraud.
EH 399- The Magical World of Harry Potter- Study Abroad - Coming in Summer 2020!
Journey to actual Harry Potter locales, such as Snape's Dungeon and the Hogwarts Library, by traveling to the real-life historical buildings, villages, abbeys, castles and cathedrals that served as inspiration in the text and/or were used as location settings in the films. This course is offered in Summer 2020 and is open to all majors.
ART 478- BioDesign Challenge (also a BIO and Applied Engineering option)
ART 399 and 467- Photography at Yellowstone
EH 374- Literature and the Environment
INS 365- Special Topics: Queer Arts and Culture
SW 371- Perspective of Death and Dying 

Registration for many of these courses is open now! Search the JSU Catalog by course number to learn more. (Note: Some courses are listed with course name Special Topics)