JSU Drama to Present "The Imaginary Invalid"
11/08/2019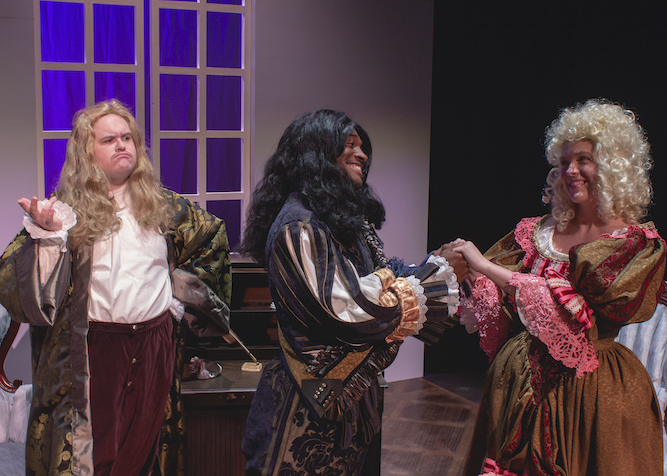 The JSU Department of Drama will present Molière's "The Imaginary Invalid" on Nov. 15-18 at Ernest Stone Performing Arts Center.  
The 346-year-old French play has been updated and adapted by Constance Congdon, based on a new translation by Dan Smith. It tells the story of a chronic hypochondriac who marries off his daughter to a doctor in order to quell his growing pile of medical bills. Romantic triangles, hidden agendas and weird disguises will show audiences that laughter is indeed the best medicine.  
"I'm very excited to be directing our upcoming production of 'The Imaginary Invalid'," said Dr. Michael Boynton, associate professor of drama. "We will be doing a very new and fresh adaptation/translation of the piece by Constance Congdon, which is also very exciting. Not only is this classic 17th century French play brilliant and historically significant, it's also full of wacky fart jokes, so what's not to love? This will give our drama students a chance to stretch their silly, farcical muscles, while also being a real crowd-pleaser for our audiences." 
The cast includes Kevin Jannot, Bridgett Rayburn, Kenli Doss, Sean Golson, Cheyenne Oliver, Christian Watts, Alex Smith, Eric Wilkerson, Chloe Barnes, Dylan Curvin and Jordan Uhlich. 
"The Imaginary Invalid" is appropriate for ages 15 and older, as it includes some adult language and themes. Show dates are Nov. 15, 16, 17 and 18. Each performance is at 7:30 p.m., except for Sunday, when the show will take stage at 2:30 p.m. Tickets are $15 and are available online or at the box office prior to the show. Call 256-782-5648 for more information.