Georgia Undergrad Ranks Nationally in Wakeboarding
09/20/2019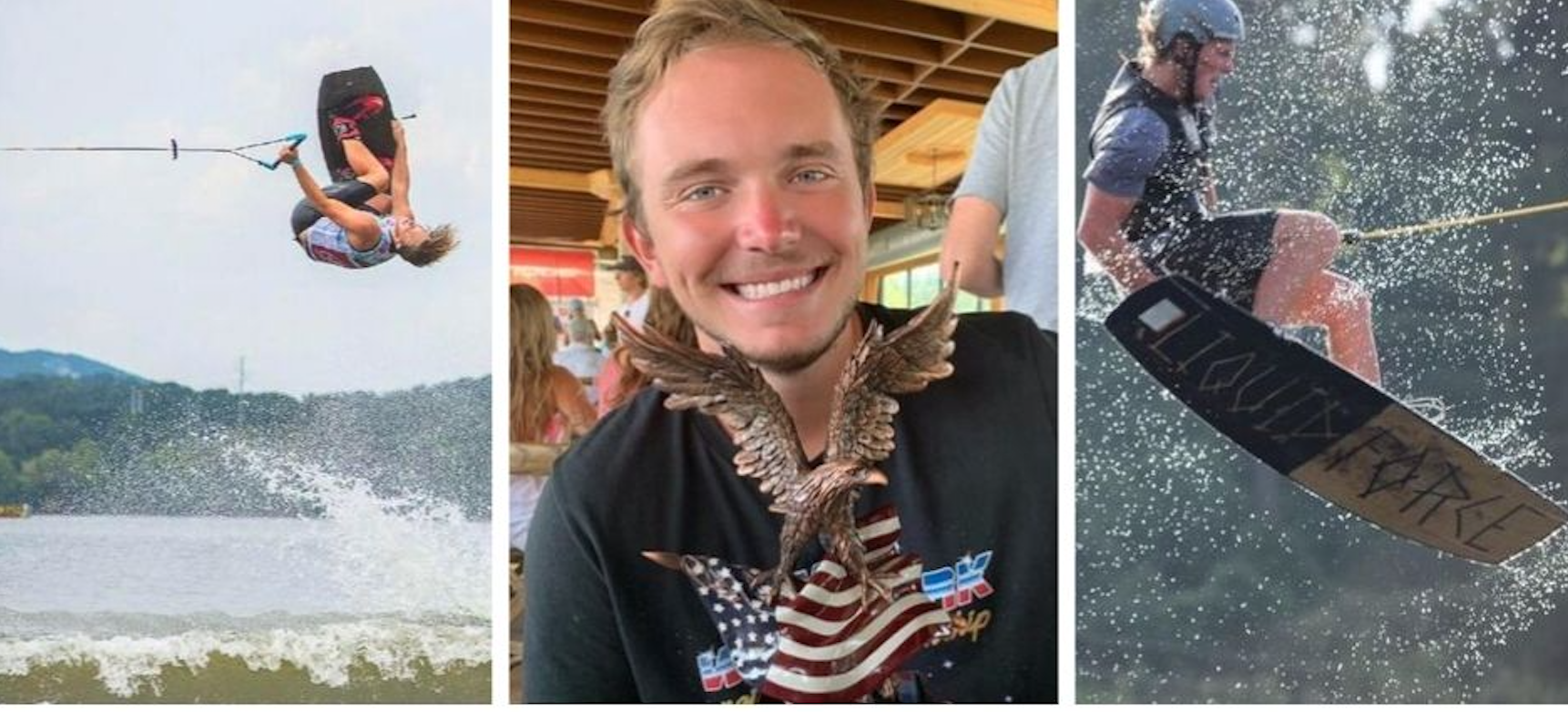 Johnathon Wilkes is used to seeing the world upside down. That's simply the natural perspective for a nationally ranked wakeboarding champion who spends much of his time spinning, flipping and flying through the air.
Wilkes, a 19-year-old JSU sophomore from Cartersville, Ga., has been on something of a winning streak. In the 2019 Georgia Wake Series that concluded in August, he finished as the top pro-am boat rider, top pro-am cable rider and the top pro-am-overall rider. Earlier this month, the biology major competed in the Pro Class Nautique World Wake Association Wakepark National Championships in Waco, Tex., finishing seventh overall in the traditional category and second place in his age group in the feature's category. 
"Riders qualify for nationals by competing at a park's local Points Chase events," Wilkes explained. "The top three riders in each division represent themselves as well as the local park as a team. I qualified through the local events at Terminus Wake Park in Emerson, Ga."
To the uninitiated, wakeboarding involves riding a board – "sort of like a snowboard" – across the water. The rider can be either be towed behind a boat or pulled by a cable system.  
"Behind a boat, the rider uses the wake created by the boat to help do jumps or tricks," Wilkes said. "At a cable park, the cable system pulls the rider around the park as the rider does tricks off various features." 
Wakeboarders can compete in two different categories:
Traditional – riders compete in categories based on skill level. They are given two laps around.  During the lap, the riders are judged based on the complete ride, including tricks, style and difficulty level.
Features Only – riders compete based on age. They are given eight minutes to ride around the park and are judged based on the difficulty of the tricks.  
Wilkes is currently ranked seventh in the Traditional Pro Class. He started cable wakeboarding the summer of his freshman year of high school, practicing every day.
 "I tried wakeboarding behind boats around the same time as cable," he said. "However, I did not enjoy riding behind the boat…the falls hurt. The summer of my junior year in high school, my parents suggested I try a few boat competitions just to see how I compared to others my age."  
He competed in regionals and qualified for boat nationals, where he finished fifth. The next year – 2017, his senior year – Wilkes won nationals as a boat rider.
"My first year, I qualified for cable nationals," Wilkes said.  "I could have podiumed but I lacked the experience and knowledge needed to succeed at that level. I was competing against riders who had been riding most of their lives and I been riding for one season. It was at this point, I realized I could do well in this sport."
When he first started riding it was mostly with his friends competing for little more than bragging rights. Now, he's a nationally ranked wakeboarder with sponsorships from Liquid Force Wakeboards and Terminus Wake Park. 
"Now, I compete against guys who have been in magazines, on tv, or have features named after them," he said. "Knowing they are in the same heat is stressful, but I like the challenge of pushing my skills to such a level." 
Wilkes plans to ride for as long as he can.
"However, the sport is very demanding on the knees and the body as a whole," he said. "I will continue to enjoy riding and compete in the competitions that are focused more on fun – like a Wake for a Cause, where the winner selects a charity to receive all the proceeds from the competition."
Whether is wakeboarding, bass fishing or corn hole, JSU students continue to distinguish themselves in recreation sports alongside the university's outstanding NCAA athletic programs. You never know where you'll hear "Go Gamecocks!" next.