JSU Football Player Wins National Service Honor
09/13/2019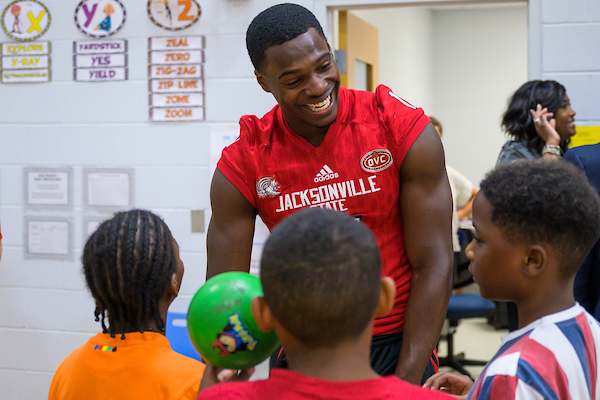 Jacksonville State's Josh Pearson is one of just 22 players from across all levels of college football named to the 2019 Allstate American Football Coaches Association Good Works Team for his service to the community.
 
A senior wide receiver from Decatur, Ala., Pearson is the fifth Gamecock to earn the honor following Daniel Kirkland (1999), Chris Kirk (2004), Josh Cain (2009) and Dalton Screws (2015). He was on a list of 137 nominees for the team and was selected by an esteemed panel of judges. The 22 players chosen stood out for their leadership in local communities and overall commitment to giving back.
 
"Because being a student-athlete is about more than their performance on the field, we're honored to share the stories of these deserving young men who embody the 'good' in college athletics," said John O'Donnell, president of Allstate's Western Territory. "At Allstate, we are inspired by their positive impact and we unite in this passion to serve local communities."
Pearson is extremely active in both the Jacksonville State community and his hometown of Decatur. He is a huddle leader for the JSU football program, leading groups of players that go out into the community and volunteer in various service opportunities. In his free time, in additional to his outreach with the football team, he goes to local elementary schools at least once a week to read to students, help teachers with classroom needs, assist with activities in physical education classes, serve as a mentor and play games with kids during recess. He visits the schools so regularly, in fact, teachers in the community have his phone number and know they can contact him when they need additional help.
 
Pearson and his teammates were heavily involved in the campus and community cleanup following the March 2018 tornado. The players attended spring practice in the mornings and went out into the community and helped clean debris from people's yards in the afternoods. Pearson helped paint the walls of the old Kitty Stone Elementary School to help prepare it for the School of Business and Industry following the destruction of Merrill Hall. Pearson has also been involved with Rainbow Omega, a facility for adults with special needs, interacting with residents and helping them with daily tasks.
 
When back in his hometown, he volunteers daily at the St. Paul's Boys and Girls Club, the United Pentecostal Jubilee House of Prayer and with the Little Buddy program at Austin High School. He also helps with local sports teams practices as well as training youth athletes. When he was in high school he was presented the Presidential Award for Community Service.
  
The Allstate AFCA Good Works Team will be invited to the 2020 Allstate Sugar Bowl and will join Tim Tebow and Allstate volunteers to give back to New Orleans through a special community service project. Allstate will recognize the team during the halftime show.
 
Fans are invited to visit ESPN.com/Allstate once per day between now and Nov. 22 to vote for Josh Pearson to be named Good Works Team captain. The team captain will be honored at The Home Depot College Football Awards on ESPN later this season.
 
The honor adds to a list of honors for the All-American receiver that led all of Division I in touchdown receptions in 2018. Pearson's 17 touchdown catches also broke JSU's school record of 11 set by Josh Barge in 2015.
 
This summer, he became just the second JSU student-athlete to win the Ohio Valley Conference's Steve Hamilton Sportsmanship Award, which is given annually to an Ohio Valley Conference male or female student-athlete of junior or senior standing who best exemplifies the characteristics of the late Morehead State student-athlete, coach and administrator Steve Hamilton. Criteria include significant athletics performance along with good sportsmanship and citizenship. The award was voted on by the Conference's athletics directors and sports information directors.

On the field in 2018, Pearson earned first-team All-American honors after catching 67 passes for 1,223 yards and 17 touchdowns. The 17 touchdowns established a new Jacksonville State single-season record, were just two away from the OVC all-time record and led all Division I (FBS or FCS) players. His performance helped Jacksonville State to a 9-4 overall and 7-1 OVC record as the Gamecocks won its fifth-consecutive OVC Championship.
 
Pearson became the first player in school history to open the season with three-straight 100-yard receiving games and he would go on to tie the school record with five total games of 100 or more receiving yards. Pearson was a finalist for the Walter Payton Award, given to the top offensive player in the Football Championship Subdivision.
  
"This is the 12th year that Allstate has partnered with the AFCA to help honor deserving football student-athletes on the Good Works Team," AFCA Executive Director Todd Berry said. "This award embodies what is great about the human spirit, football student-athletes and coaches from all parts of the country dedicated to one thing, giving of their time and energy to make a difference in their communities."
 
The following players and honorary head coach are named to the 2019 Allstate AFCA Good Works Team:
 
Football Bowl Subdivision (FBS)
Koby Quansah, Duke University
Denzel Goolsby, Kansas State University
James Smith-Williams, NC State University
Connor Wedington, Stanford University
Isaiah Sanders, U.S. Air Force Academy
Marcel Dancy, University of California
Jake Fromm, University of Georgia
Bryce Torneden, University of Kansas
Landon Young, University of Kentucky
Tre Tipton, University of Pittsburgh
Spencer Eason-Riddle, University of South Carolina
 
Combined Divisions (FCS, II, III & NAIA)
Danny Munoz, Bethel University (Minn.)
George Hatalowich, Davidson College         
Ryan Landis, Frostburg State University
Josh Pearson, Jacksonville State University
Aaron Feazelle, Mississippi College
Jacob Katzer, Morningside College  
Ben Ellefson, North Dakota State University
Ben Bartch, Saint John's University (Minn.)
Dante Olson, University of Montana           
Ryan Oliver, Utica College (NY)       
Luke Bevilacqua, Wayne State University (Mich.)
 
Honorary Head Coach
Dabo Swinney, Clemson University