JSU Drama Announces 2019-2020 Season
09/20/2019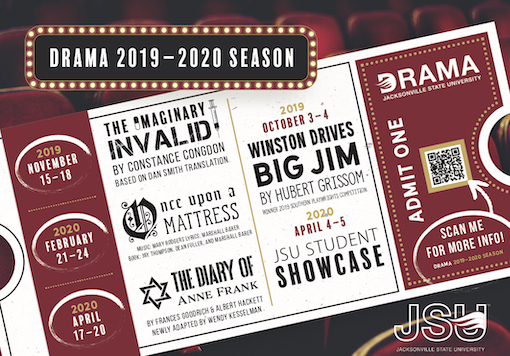 The students and faculty of JSU's Department of Drama are preparing to raise the curtain on the 2019-2020 theater season. Season tickets are on sale now and single show tickets will be available beginning Oct. 1. 
There are five shows in the lineup, beginning on Oct. 3-4 with the winner of the Southern Playwrights competition, "Winston Drives Big Jim." Written by Hubert Grissom, it tells the story of an unlikely friendship between a progressive Southern governor and his chauffeur as they drive through, witness and influence the emerging Civil Rights movement in Alabama in the 1940s and 1950s, including the Montgomery Bus Boycott. This staged reading of the play is directed by Michelle Tailor, a visiting assistant professor from New York City. 
The season continues on Nov. 15-18 with "The Imaginary Invalid" by Molière, adapted by Constance Congdon, based on a new translation by Dan Smith. When a chronic hypochondriac by the name of Monsieur Argan decides to marry off his daughter to a doctor in order to quell his growing pile of medical bills, his daughter is none too happy. Romantic triangles, hidden agendas, weird disguises and more promise to leave you laughing through tears.
"I'm very excited to be directing our upcoming production of 'The Imaginary Invalid'," said Dr. Michael Boynton, associate professor of drama. "We will also be doing a very new and fresh adaptation/translation of the piece by Constance Congdon, which is also very exciting. Not only is this classic 17th century French play brilliant and historically significant, it's also full of wacky fart jokes, so what's not to love? Not only will this give our drama students a chance to stretch their silly, farcical muscles, it will also be a real crowd-pleaser for our audiences as well."
After winter break, JSU Drama will kick off the spring with "Once Upon A Mattress," shedding new light on the popular story, "The Princess and the Pea." Did you know, for exampe, that Princess Winnifred actually swam the moat to reach Prince Dauntless the Drab? Or that, in fact, it wasn't the pea at all that caused the princess a sleepless night? The production features music by Mary Rodgers, lyrics by Marshall Barer and book by Jay Thompson, Dean Fuller and Marshall Barer. 
Dr. Ellen Peck, associate professor of drama, will direct the show she calls a "fun, quirky take on the classic fairy tale" that is sure to please audiences with its wacky characters and catchy music. She said, "This will be a treat for the whole family!"
Next up will be the annual JSU Drama Student Showcase on April 4-5, featuring work from student actors, directors and designers. Finally, the year ends with "The Diary of Anne Frank" by Frances Goodrich and Albert Hackett, newly adapted by Wendy Kesselman. 
Produced by JSU Drama in conjunction with the theatre honor society Alpha Psi Omega, this student led show will tell the story we all know of a gifted young woman who confronts her rapidly changing life and increasing horror of her time with her honesty, wit and determination. An impassioned true-life drama about the lives of eight people hiding from the Nazis in an attic, it captures the claustrophobic realities of their daily existence – including their fear, hope, laughter and grief.
Season tickets for all five productions are $45 for the general public and $42 for faculty, staff, students, military and seniors. Single show tickets are $5 for "Winston Drives Big Jim" and the Student Showcase; $15 for the three remaining shows. Students registered for a drama class receive complimentary tickets with ID. For more information, call 256-782-5648 or visit www.jsu.edu/drama/boxoffice.