JSU Launches Faster Master's Program
06/20/2019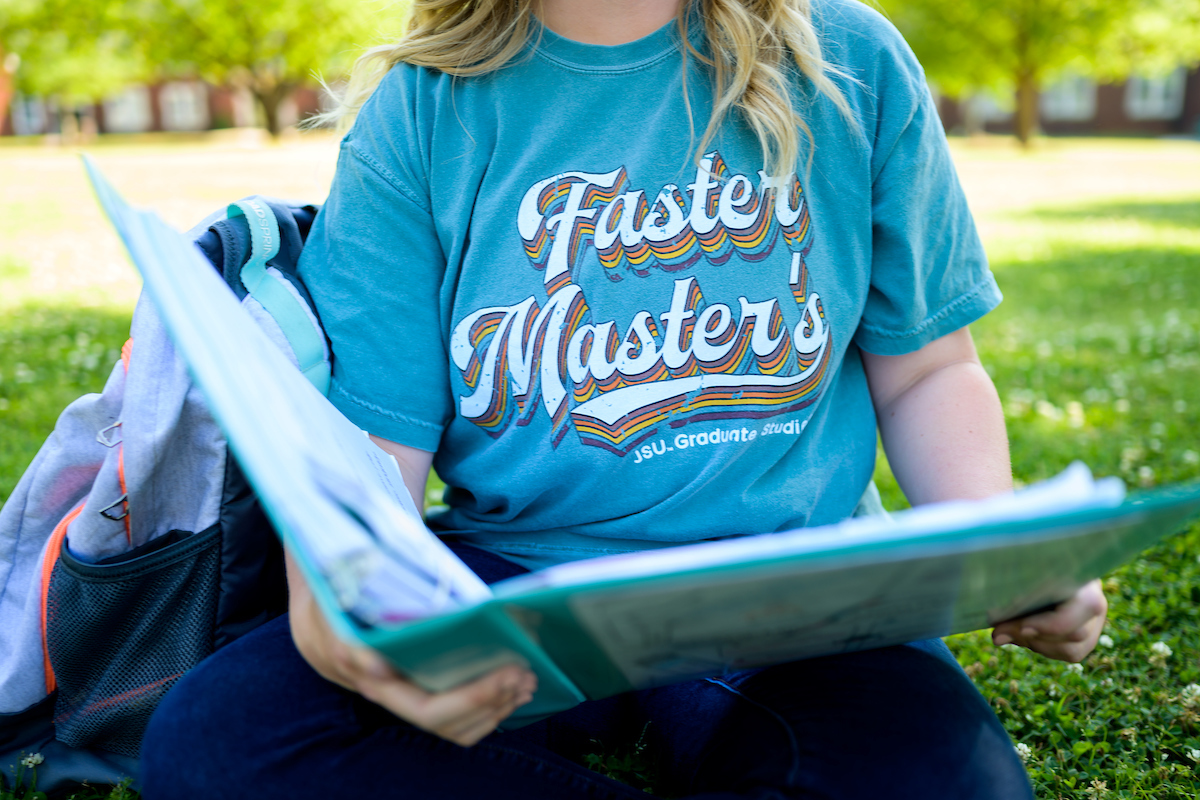 The name alone delivers on a promise that traditional graduate programs can't match. JSU's recently launched Faster Master's program allows undergraduate students to take up to 12 hours of graduate coursework during their junior and senior years, which counts double toward earning both a bachelor's and master's degree. 
Students can graduate with a master's degree a full year earlier than with a traditional master's program, saving up to $6,000. Undergraduate scholarships and financial aid can be used in the program. 
"We wanted a program that would reach our top undergraduate students and offer them an opportunity to get their master's degree quicker and at less expense than the traditional route," said Dr. Andrea Porter, director of JSU Graduate Studies.
Research indicates that, especially in Alabama, over the next 20 years, many of the jobs that require just an associate's or bachelor's degree are the jobs that we will see going away. 
"If you want to be more secure in your career in the future," Porter said, "having a graduate degree is a good way to do that."
With the Faster Master's program, students are able to earn a master's degree a year earlier than the traditional path. They can graduate with two degrees instead of one, all while increasing their potential longevity in their chosen careers.
"The sooner they get their master's degrees, the sooner they can put them to use," Porter said. 
The Faster Master's program pilot phase was launched in the spring with biology and English degrees. For the 2019-2020 school year, criminal justice, history and sport management will join the roster, with more expected to be included next year.
Currently, there are 22 students in the program, with a least as many applicants hoping to be approved. 
"I think this is going to become a very viable option for our undergraduate students if they work hard and excel early on and become eligible for the Faster Master's when they are juniors and seniors," Porter said. 
Just as the program itself is accelerated, so too are the students who are apt to qualify for it. While admission applications vary depending on the degree sought, all require between at least a 3.0 to 3.5 GPA.
"These are students who have proven themselves academically ready and who have the desire and drive necessary to go ahead and start their graduate work," Porter said. "These students represent the very best of JSU, and offering them the Faster Master's opportunity is our way of showing them how they can make the most out of their time at JSU."
To apply, simply fill out the Graduate Studies application and select the Faster Master's option. For more information, contact the Office of Graduate Studies at graduate@jsu.edu or 256-782-5348.