JSU to Graduate First Class of Respiratory Therapy Students
05/01/2019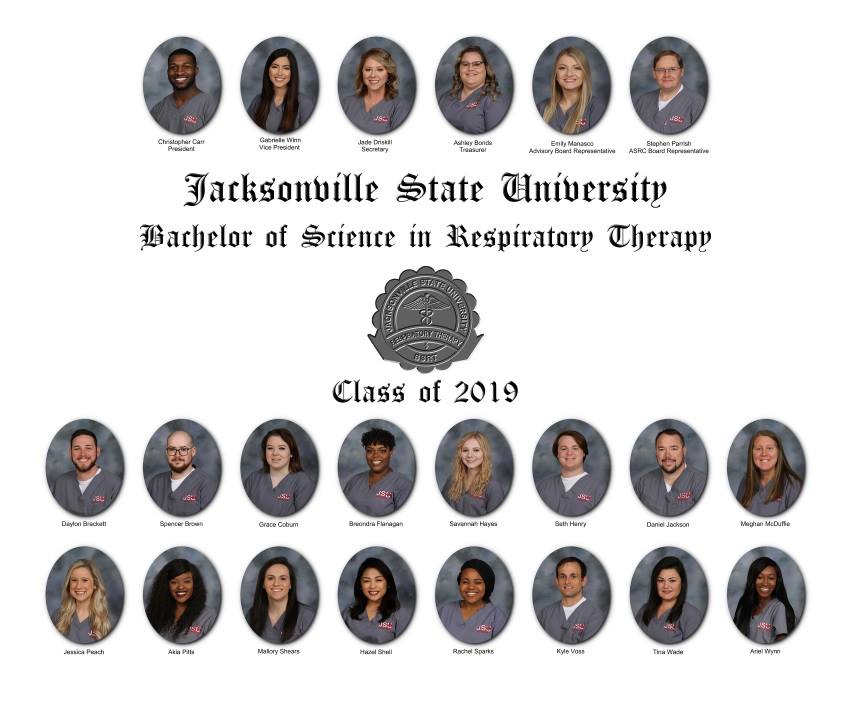 Hundreds of students will be awarded degrees at JSU's spring commencement on May 3. Among them will be the first graduating class of the university's new respiratory therapy program.  
Twenty-two students are set to receive Bachelor of Science degrees from the university's traditional respiratory therapy program this spring. Announced in late 2015, the program began enrolling students in Fall 2017. 
JSU is now the only university in Alabama enrolling students in a bachelor's program in respiratory therapy. The program was established at the request of the health care community, and has received widespread support from throughout Alabama, Georgia and Tennessee.  
"In evaluating the need for this program, we heard from a number of our community partners," Dr. Christie Shelton, JSU provost, said in 2015. "Our constituents wanted more health care degree options at JSU, as health care jobs are prevalent and offer stability and opportunities for advancement." 
One of the fastest growing fields in the world of medicine, respiratory therapy has an above-average projected job outlook of 19 percent according to the US Bureau of Labor Statistics. In addition to providing emergency care to patients suffering from heart attacks or strokes, respiratory therapists assist patients of all ages with chronic respiratory diseases such as asthma, emphysema, pneumonia, cystic fibrosis, sleep apnea and chronic bronchitis.
"The response has been great," said Dr. Ed Goodwin, director of the JSU respiratory therapy program. "Most students have accepted jobs, or they are considering multiple job offers. The demand is high for RTs. Our students have already developed a great reputation with the hospitals while completing their clinical rotations, and many are being heavily recruited." 
In addition to the traditional BS program, JSU also offers a Registered Respiratory Therapist to Bachelor of Science in Respiratory Therapy (RRT to BSRT) program, fully online, to enable practicing respiratory therapists to receive a four-year degree. Fifteen students have already graduated from this "bridge" program, with five more candidates scheduled to earn their degrees this May. 
JSU accepts 24 students to the traditional respiratory therapy each fall. The deadline to apply for 2019 in June 1. Learn more about the respiratory therapy program at www.jsu.edu/respiratory/.