Students Win College Carhartt Bassmaster Tournament
03/08/2019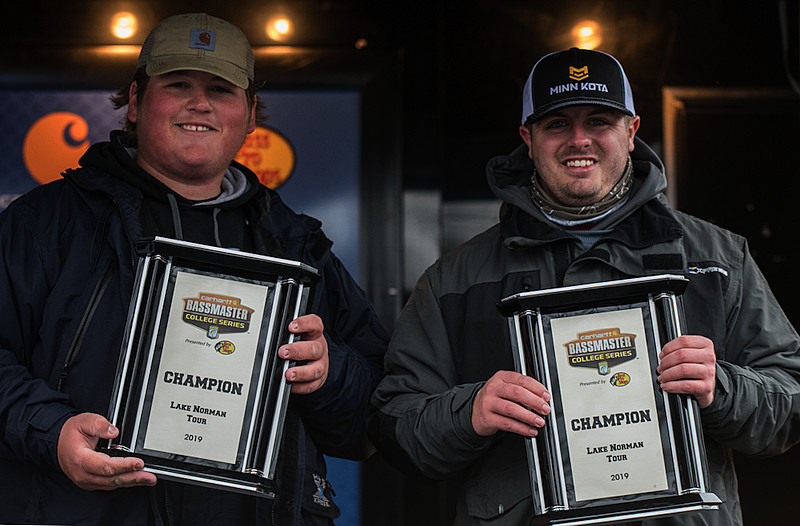 For Will Nichols and Jamon Phillips, it's not where you start but where you finish that matters.
Nichols and Phillips, both members of the JSU Fishing Club, reeled in a dramatic comeback on the final day to win the three-day Carhartt Bassmaster College Series tournament on Lake Norman in Cornelius, NC on Feb. 23. 
They started out the final day in 10th place, but made up more than 5 pounds on Saturday, catching mostly spotted bass. The ones they caught Saturday averaged more than 3 pounds each. On their last weigh-in, Nichols and Phillips pulled in a limit of five bass totaling 16 pounds, 2 ounces, giving them an overall three-day weight of 37.15, enough for first place. 
"I believe some of our success came from being at the right places at the right time and the lures that we chose," Nichols said. 
Nichols and Phillips won $2,500 for the JSU Fishing Club. The win is important for both the anglers and JSU.
"I believe it really puts JSU's name on the map in collegiate fishing," said Nichols, a 20-year-old junior majoring in occupational safety and health management. "It shows people we are not just a group of guys on a creek bank with a tub of night crawlers. We are the real deal."
Both fishermen give credit to the JSU Fishing Club.
"It has helped me become a better fisherman due to the fact we travel to a lot of places I've never been before," Nichols said. "It has allowed us to view other lakes than just our local ones."
This was Phillips' first year in the club.
"It's a humble feeling fishing with these guys because the team is super close," he said. "I think this win for JSU has put a spotlight not only our team, but the university as well, and I'm super proud of that." 
Nichols and Phillips competed against 256 boats and more than 50 colleges from around the country. It was the first such competition for Phillips. He remembers how nerve racking it was to pull up to the boat ramp and see so many fisherman all with same goal – winning. 
"Any three-day tournament makes me nervous because anybody can catch fish for a one-day tournament," said Phillips, a 22-year-old majoring in exercise science and wellness. "But once we backed the boat in, I knew it was our time."
Winning the college series qualifies the duo to compete in the BASS nationals, where they can participate in the Bassmaster Classic. Doing so would a dream come true for Phillips, a native of Glencoe.
"It sounds crazy," he said, "but when I was little, I would watch all the Bassmaster events and Fishing League Worldwide events on TV not knowing I would get the privilege to fish in or even win one." 
Nichols has loved fishing since he was 10 years old, fishing in a local youth club then advancing to the Alexandria High School team. He dreams of going pro but understands how difficult that could be.
"I hope one day that I get the chance, but you always got to have a Plan B," he said. "After graduation, I still plan on pursuing a job with my degree, but still fishing on a competitive level."