Drama Student Awarded National Fellowship
03/15/2019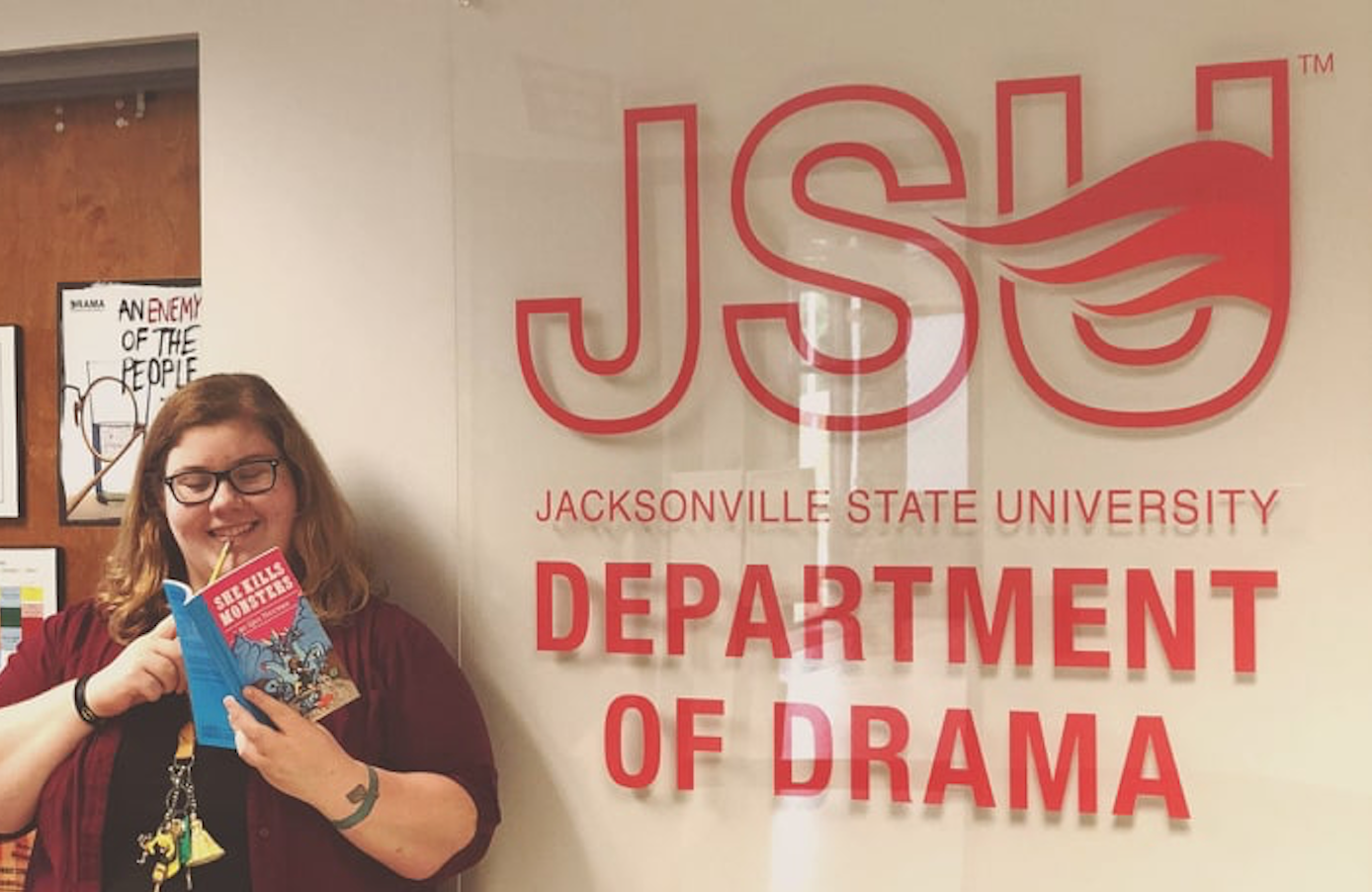 Shock. That was Rebecca Weaver's initial reaction after learning she had been named one of four recipients of the Student Dramaturgy Award by the Literary Managers and Dramaturgs of the Americas/Kennedy Center American College Theater Festival.
Once reality sank in, she ran straight to Dr. Michael Boynton's office to tell her professor and mentor that she would participate in the all-expense-paid residency at the national festival at the Kennedy Center in mid-April.
"It made my entire week and is, hands down, the best day of my life – so far," said the 22-year-old English and drama double major.  
"Dramturgy" is the theory and practice of dramatic composition. The Student Dramaturgy Award recognizes contributions by student dramaturgs to the conception, development and production of theater within their colleges and universities, or to educational projects in dramaturgy.
It's particularly impressive that Weaver has won the fellowship, considering that JSU doesn't offer classes in dramaturgy. She transferred to JSU from Winthrop University as an English major and took Carrie Colton's "Intro to Theater" course as a general requirement. It was Colton who believed that Weaver might have a gift for dramaturgy. She worked on a CAST production of "Baskerville," followed by a pair of JSU shows – "Shackles of Liberty" and "An Enemy of the People."
"I worked on JSU's show, 'Shackles of Liberty,' to dip my toes into the department," Weaver said, "but it wasn't until 'An Enemy of the People' that I really began to fall in love with dramaturgy." 
Weaver was nominated for her dramaturg work on JSU's production of "She Kills Monsters," for which she attended the regional festival. To participate in regionals, she had to submit a dramaturgical protocol/casebook, which contained the most significant parts of her research and contributions to the production. 
At the regional festival, Weaver participated in a 10-minute play as a dramaturg, attended intensives with a professional dramaturg, and had an interview/review with the dramaturgy respondent. Based on that performance, she was awarded the Dramaturgy Award for Region IV. She then had to apply again to nationals by editing her casebook and sending it to the dramaturgy representatives at the national level, where she was judged against all other regional winners. 
"For my career, it is definitely a game changer," Weaver said. "I hope it means that I will be meeting people in my field, getting my name and my work out there, and ultimately opening doors for employment and success." 
Having a recipient for a national fellowship is important for JSU as a whole, bringing recognition to the small but accredited department. 
"I hope that it draws attention to our program," Weaver said. "This department means so much to me because it is where I have been able to develop not only a love for dramaturgy, but a thorough education in all fields of theatre." 
The national fellowship is a testament not only to Weaver's work and talent, but also to JSU's approach to providing educational opportunities for students, said Dr. Staci Stone, dean of the School of Arts and Humanities. 
"Our drama program is first-rate, and job opportunities for those with drama degrees is expected to grow in this region, so theatre as a major has great potential," Dr. Stone said. "In fact, the State of Georgia has now surpassed California and New York in film-industry related jobs."
While it is a relatively new, specialized field, all theatre artists should have a basic understanding of how dramaturgy works because it is vitally important to understanding all aspects of a production, Weaver said.
"I hope that this honor will mean that dramaturgy gets the consideration it deserves as a legitimate field in American theatre," she said.