2019 Marching Ballerina Auditions
03/01/2019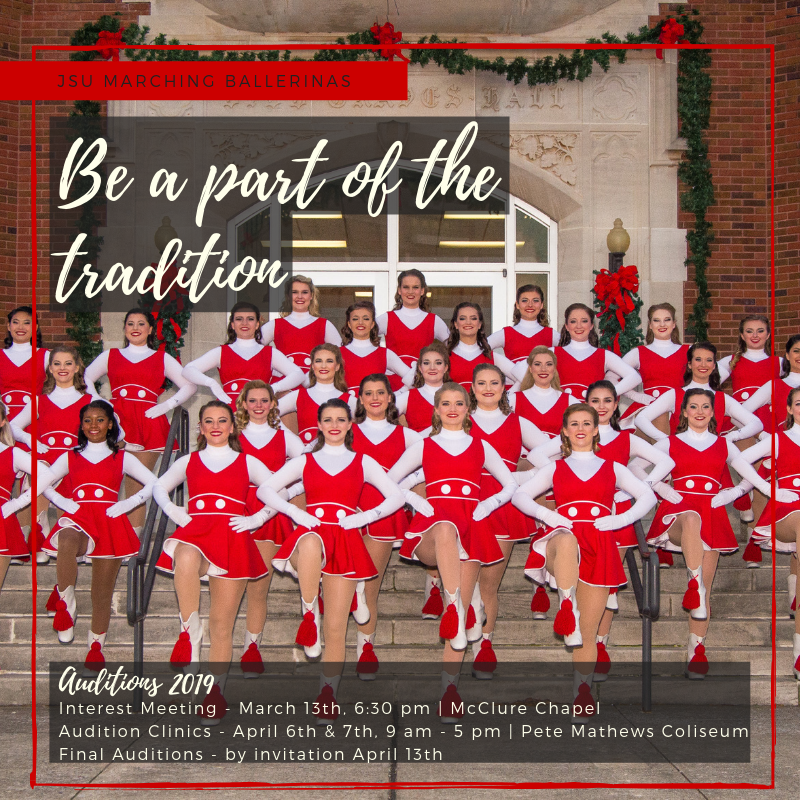 Each spring, dozens of young ladies try out for the South's most beloved college dance line, the JSU Marching Ballerinas. Candidates are made up of high school seniors, JSU students, transferring college students and returning Marching Ballerinas. 
The audition season will begin with an interest meeting on March 13, where potential and returning Ballerinas will receive information about the organization, the upcoming season and the audition process. This is a great time to see what being a Ballerina is all about and have questions answered. 
An audition clinic weekend will be held April 6-7, where participants will learn the Marching Ballerinas' dance styles and how to apply them to audition routines. At the end of the second clinic day, candidates will participate in first cut auditions. Approximately 50 candidates will be invited back for final auditions on April 13. 
All potential Ballerinas must be accepted to or attending JSU by the first day of clinics on April 6. Attendance to the March 13 interested meeting is not mandatory, but those who plan to attend auditions should contact coordinator Noelle Stovall at nstovall@jsu.edu for an audition packet. 
Good luck candidates!