JSU Students Win National Cornhole Championship
02/25/2019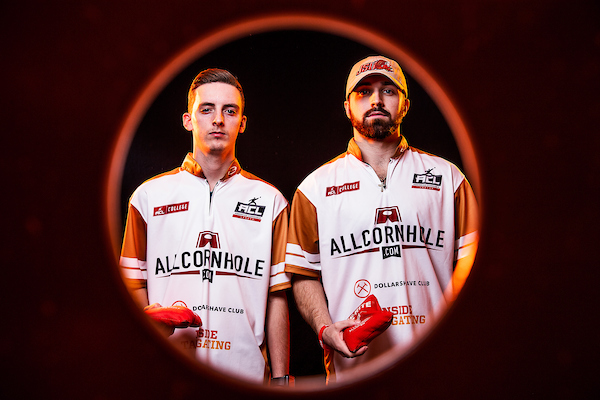 Photo by Matt Reynolds
While tossing bags across the backyard into a set of cornhole boards that his buddy's parents made, Branson Oliver never imagined he'd one day be crowned a national champ in the game. But that's exactly what happened when he and his throwing partner, fellow JSU student Dustin Travis, won the American Cornhole League's College Cornhole Doubles National Championship.
Oliver, a 22-year-old junior majoring in occupational health and safety, and Travis, also 22 and a junior majoring in computer science, graduated together from White Plains High School – located just over the mountain from Jacksonville. Yet, they beat teams from as far away as Ohio and Virginia on their journey to winning the tournament in Myrtle Beach, SC on Dec. 30.
The National College Cornhole Championship crowns the best college team and college alumni team from around the country. It provides scholarship money to students and donations to booster clubs. The open format allows for any size college to participate. The American Cornhole League encourages colleges to develop cornhole as an intramural or club sport and develop strategies to leverage cornhole to raise funds for college athletics.
To the uninitiated, cornhole is normally a game reserved for tailgates and family reunions, but there's serious money to be won for those who put forth a little time and effort. Oliver won a total of $5,000 in scholarships: $2,500 in doubles, $2,000 for a second place finish in the singles competition and $500 in the pro tournament. Travis won $2,750: $2,500 for the doubles win and $250 for placing ninth in singles play.
"I know lots of people who make a living out of this," Oliver said. "They travel all over the country playing in $10,000 and $25,000 tournaments. And anybody can be in them – just practice and get really good."
People are normally shocked by just how popular cornhole is becoming.  
"ACL has a contract with ESPN, and they're really trying to expand things," Oliver said. "They're trying to bring it up to where it's seen as a national sport rather than just a tailgate game people play for fun. People can earn a living doing this."
Oliver admits that he doesn't really practice all that much, instead playing in local tournaments whenever possible. "Really it's just muscle memory," he said. "Once you get the rhythm down, you're good to go. 
When it comes to game time, some like to yell and talk trash to get into the head of their opponent. Oliver is more laid back. He can usually be found listening to rap music through his earbuds and sipping on a frothy beverage until it's his turn to throw. 
"I'm pretty quiet, trying to get in the zone," he said. "The whole tournament, I usually keep my head down and listen to music to drown everything else out."  
When it comes to plans for the future, Oliver hopes to get a job with Honda as a safety monitor and perhaps, one day, work for OSHA. Travis, who currently works as an assistant pro at the Anniston Country Club, aspires to go through the Professional Golf Management Program and eventually manage a golf course.
Red Threads Apparel has created a T-shirt commemorating the cornhole championship. Purchase online.