JSU Confers 582 Degrees at Fall Commencement
12/14/2018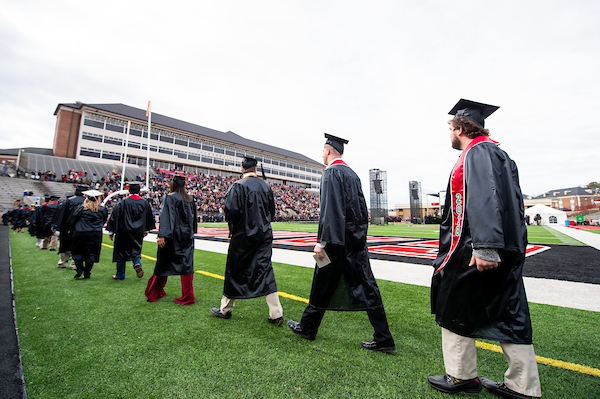 Jacksonville State awarded 582 degrees at fall commencement on Dec. 13. The ceremony was held once again on Burgess-Snow Field in JSU Stadium, due to repair work in Pete Mathews Coliseum. 
JSU President John M. Beehler presented degrees to 441 undergraduates and 141 graduate students while Provost Rebecca O. Turner served as mistress of ceremonies. Trustee Clarence W. Daugette III was in attendance. 
Curtis McGhee, Jr. – who graduated with an MA in English – served as the student commencement speaker. Derrick D. Jordan (BS, criminal justice, 1992) spoke on behalf of alumni. The bell ringer was Ashlee Goff, who graduated with a BS in psychology. 
Watch the ceremony online here.
The spring commencement ceremony will be held on May 3, 10 a.m., in JSU Stadium.