Transition University Honored for Community Impact
11/01/2018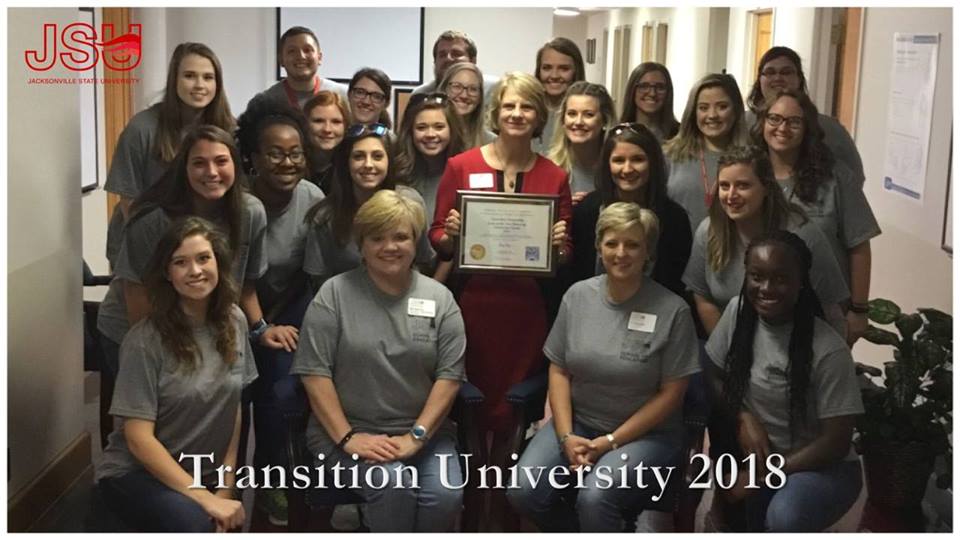 JSU's Transition University program has been recognized with a 2018 Collaboration Award from the Talladega Area Governor's Committee on Employment of People with Disabilities for its work with the Alabama Institute for the Deaf and Blind and the Talladega School System. The program is now under consideration for the statewide award. 
Transition University is a School of Education community engagement project designed to cultivate relationships between high school students with intellectual and severe disabilities and JSU special education collaborative teacher candidates. Currently, Transition University serves more than 100 regional high school students with intellectual disabilities and their teachers. 
Program participants meet on the JSU campus during the fall and spring semesters. Typical activities include a focus on social skills, navigating campus transportation, lunch in the Jack Hopper Dining Hall, tours of JSU departments and trips to local businesses. While the students are participating in activities with JSU special education teacher candidates, their teachers participate in professional development sessions. 
To support this award-winning transition program, and support students with intellectual disabilities who would not otherwise get a college-type experience, text TRANU to 91999 or visit http://igfn.us/f/1xbc/n.