Celebrating Our Differences
10/17/2018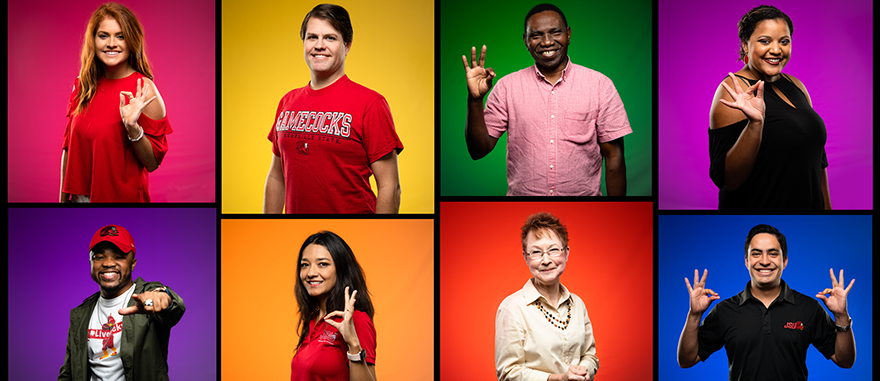 JSU has a diverse student and employee population. (Photos by Matt Reynolds)
By Brett Buckner
Diversity – a single word that encompasses everything.
Diversity is about our differences. It's about race and religion, gender and ethnicity, sexual orientation and economic background. Diversity is about bringing those differences together and giving all people a place to belong.
The antithesis of diversity is segregation, but it might as well be ignorance. We learn more from those who are different than those who are the same. We learn more about ourselves in the process.
JSU is in the business of education. But education doesn't always come strictly from homework, class projects and final exams. That is why JSU is embracing a variety of diversity initiatives in order to make its campus, its classrooms and every facet of the university more inclusive.
"Our goal is to expand the definition of diversity," said Dr. Heidi Louisy, JSU's Chief Human Resources and Diversity Officer. "I'm not thinking just about race and gender, but all areas of potential impact."
According to its Commitment to Diversity statement, JSU's Office of Diversity and Inclusion "seeks a campus climate that embraces, celebrates and promotes respect for the entire variety of human experience."
To accomplish this, JSU's newly formed Diversity and Inclusion Committee initiated the Diversity and Inclusion Strategic Plan for 2017-2022, in an effort to become a "national leader and model for the institutional integration of diversity, inclusion and acceptance in higher education for the 21st century."
The committee established a series of goals to bring this promise to fruition:
Goal 1
Develop and implement educational opportunities for the JSU community about the importance of diversity, inclusivity and cultural sensitivity
• Develop ongoing training opportunities for current employees
• Provide diversity and inclusion awareness during the onboarding stage of all new employees
• Promote the tenets of Diversity and Inclusion to all students.
Goal 2
Cultivate an Inclusive Campus Climate
• Recruit and retain diverse and engaged workforce
• Recruit, retain and graduate a diverse and engaged student body
• Provide an accessible environment with appropriate resources
Goal 3
Develop an exemplary Diversity and Inclusion program
• Promote and participate in community partnerships
• Present the JSU Diversity & Inclusion Program to other universities and affiliates.
• Identify means/resources to offer diversity focused grants.
Role Model
Since 1995, Minority Access, Inc. has assisted colleges and universities in becoming more diversified. The organization recently named JSU to its annual list of Institutions Committed to Diversity.
If there is a human embodiment for JSU's diversity aspirations, it would be biology professor Mijitaba Hamissou who was named a Minority Access Role Model, which honors those who expand the pool of minorities in fields underrepresented by minorities.
"Jacksonville State University is among the institutions that supports diversity and inclusion," Hamissou said. "One of my roles as a faculty member is to help JSU in that aspect. JSU is a good learning environment that has diverse faculty and staff, and we want to make sure students know that all are welcome here at JSU."
During his 16 years at JSU, Hamissou has worked with numerous organizations, including Quality for Minorities, a forum organized by the National Science Foundation to inspire minority students' involvement in science. He serves as the advisor for the Japanese student organization, Sakura-Union, which taught him the value of diversity firsthand.
"When students noticed that there is someone like them in a setting – be it a class, a student organization – they tend to feel included and become successful," he said. "Working with Sakura, I learned that irrespective of their geographic origin, students are more academically engaging when the environment is composed of diverse individuals."
'Pictures speak'
Diversity is based on perspective. Perhaps this is best illustrated in nursing.
"Diversity to me is defined contextually," said Dr. Christie Shelton, dean of the School of Health Professions and Wellness. "If you're in an area like nursing, which is largely female, then diversity would be improved by having men of any social or ethnic background because there are so few. But that's certainly not what diversity looks like in the business world."
JSU's Department of Nursing is addressing diversity by putting more male nurses "front and center" on its various marketing efforts – websites, brochures, etc.
"Pictures speak," Shelton said. "Being a nurse, working with the variety of patients we see in the hospital, it's helpful to have diversity. Being a nurse isn't about being male or female, and men in nursing isn't a new concept, but moving the needle forward has been difficult."
The needle is moving. According to the Alabama Health Action Coalition (AL HAC), JSU's Department of Nursing had "significantly higher percentages of diversity" in ethnicity and number of male students. With 42 male students enrolled in the fall of 2015, JSU's male population made up 17.5 percent of its nursing student population, compared with less than 12 percent among other schools. For the fall of 2016, that number increased to 44 students – 18.8 percent.
Several factors contributed to this, according to Dr. Betsy Gulledge, head of the JSU nursing department and associate dean of the School of Health Professions and Wellness.
"We have a commitment to mentoring, remediating and maintaining as many students as we can," Gulledge said. "Our NCLEX (National Council Licensure Examination) pass rate is high but our graduation rate is also high when usually those are inversely related. Many of our students are first generation college students, and we have a commitment to mentoring and helping those students."
Transformational experience
Exposure to diversity is a transformational experience with the potential for a far-reaching impact.
According to the American Association of State Colleges and University's Diversity statement, "Our economic future, democracy and global standing will suffer if the next generation is not ready to engage and work with people whose backgrounds, experiences and perspectives are different from their own."
As vice president for student affairs, Dr. Tim King believes current students, with few exceptions, are more receptive of diversity than previous generations.
"For the most part, this generation gets it better than any generation has before them," he said. "With regards to JSU's current level of diversity, I believe we are representative of our community. Nevertheless, we always want to improve and do more."
The Office of Student Affairs will soon open a Multicultural Center in the basement of the International House.
"My hope," King said, "is that students from diverse backgrounds will see the Multicultural Center as JSU's commitment to promoting diversity among our students."
The overarching goal is to make JSU a destination for all students.
"One of the things we need to continue to do is to tell our story – not just locally or regionally, but nationally," Louisy said. "We're not just a gem, we're a hidden gem, so we're working to get the word out – at national conferences and events – about our plans and goals."
By getting the word out, JSU will attract the best and brightest employees and students, Louisy said.
"We don't cast our nets in shallow waters when we are recruiting," she said. "We cast a large net in deep waters. We're not where we want to be, but we're working hard to get there."