Preview Day Gives Prospective Students the Chance to 'Fall in Love' with JSU
09/21/2018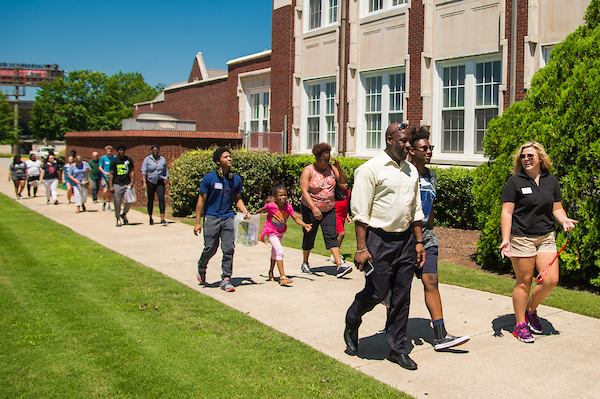 Camri Mason was 17 years old one chilly day in 2016 when she attended Preview Day – a time when prospective students are given a chance to fully immerse themselves in the thrilling atmosphere of life at JSU. In addition to touring the campus and meeting with advisors, potential students get to tailgate, attend a football game and hang out with Cocky, JSU's mascot.   
JSU wasn't initially Mason's main focus. But once she was greeted by all those warm, welcoming smiles, that all changed. 
"Once I stepped foot here my whole perspective changed," said the now 20-year-old communications major. "I wanted to live and breathe like a Gamecock and learn about all of their traditions. When I came to Preview Day, my whole life changed once I knew I was going to JSU."
When it comes to the recruitment of students, Preview Day is arguably one of the most important events on campus. According to statistics gathered in the fall of 2017, 70 percent of students who ultimately enrolled in JSU attended Preview Day. In fact, it's often the only event they attended before becoming part of the JSU family. 
Preview Day is a chance for JSU students and faculty to show what it really means to be a Gamecock, explained Haley Ginn, admissions advisor.
"It is very important that everyone is geared up and ready so that we show we are the Friendliest Campus in the South," Ginn said, "and give them an experience that will most definitely make a decision on whether they come here or not." 
Saturday will be the first Preview Day of the fall term. A second is scheduled for Oct. 13. More than 500 students are expected for Saturday's event. With guests – mainly moms and dads – there will easily be upwards of 1,500 people on campus, all trying to decide if JSU fits into their plans for the future.
Hannah Lovvorn was among decision makers in the fall of 2015. Once she experienced a football game day and toured the beautiful campus, the choice was obvious. 
"Attending Preview Day sealed the deal for me," Lovvorn said. "I wanted to go to a bigger school, but after I came to Preview Day I fell in love with the campus and the hospitable atmosphere. Everyone made me feel so loved and already at home. I knew this was where I belonged."
That is the simple goal of Preview Day – to show prospective students what to expect if they make JSU their college choice. Saturday's event includes:
A campus tour
Interact with faculty and staff from the department of the student's interest
Open house tour of International House 
Open house tour of the residence halls
University Recreation tailgate party with games and a presentation on the new Fitness and Wellness Center
Share a Coke with Cocky
Complimentary tickets to the JSU football game  
"It's Game Day!" Ginn said. "There will be lots of prospective students on campus, so it gives everyone the chance to meet people who are in the same walk of life as them, deciding if JSU is where they want to call home. Not to mention many current students, faculty, staff and fans will be mingling all over campus. It is an experience you will never forget." 
That was certainly true for Harley Stickney who attended Preview Day in the fall of 2014. Like Lovvorn, JSU wasn't her first choice at the time. Yet, the experience was so positive it got her to come back to attend another JSU tradition that spring – Accepted Students Day, which is an exclusive event only for students who have been accepted to JSU as freshmen. 
"Accepted Students Day is where I was sold when I visited the art department," Stickney said, "and found out about how many opportunities students have to get involved on campus." 
Today, Stickney is one of JSU's most engaged students. She's an Ambassador, vice president of administration for the Panhellenic Council, active in Alpha Omicron Pi, a member of Kappa Pi International Art Fraternity, president of the American Institute of Graphic Arts and a design intern in the JSU Office of Marketing Services. 
"I do think people should attend Preview Day if they are on the fence because it brings students to campus to see the things they want in action," Stickney said. "Once I came to campus, I really felt that sense of friendliness. I learned a lot of things I didn't know. 
For more information or to register for the Oct. 13 Preview Day, visit jsu.edu/previewday. Registration Closes Oct. 11