More Than $11K Raised for Community at Spirit on Mountain Street
09/03/2018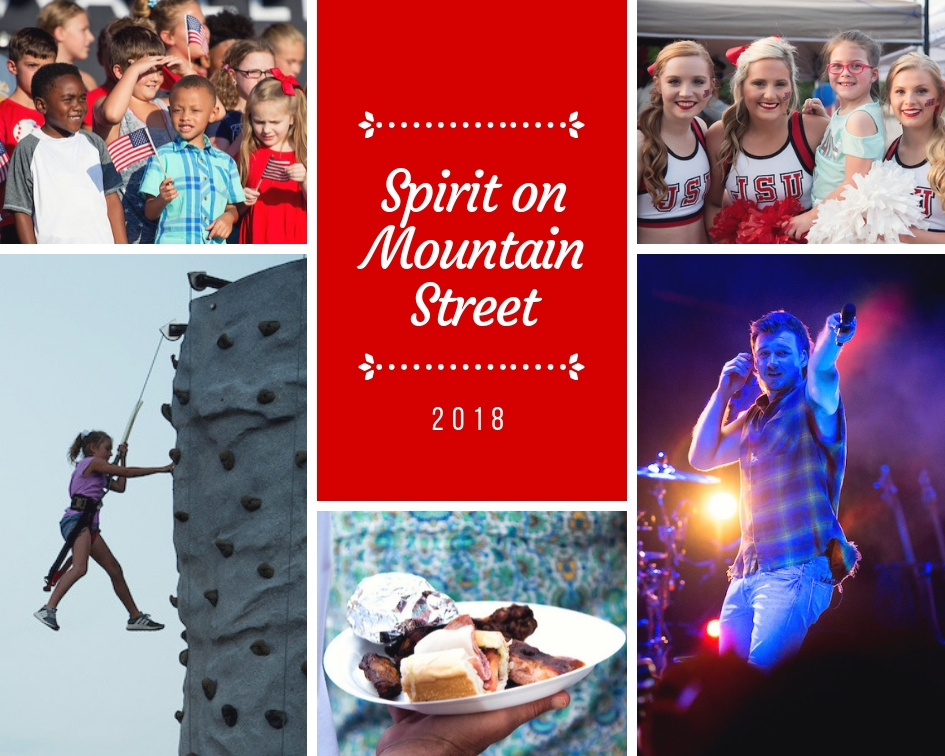 More than $11,000 was raised for the needy at the 13th annual Spirit on Mountain Street festival presented by JSU and the City of Jacksonville on Aug. 23. 
The Kitty Stone Singers kicked off the festivities by singing the National Anthem. The Taylor Real Estate Kidzone was a hit, complete with a dunking booth manned by local personalities, a climbing wall provided by Jacksonville Parks  and Recreation and a Human Foosball court sponsored by Gamecock Pawn.
The Cheaha Bank Cornhole Tournament brought 20 two-man teams to the event to compete for $500 in prizes, while this year's Sonic Hotdog Eating Contest included seven hungry participants gorging on Sonic dawgs for the $100 prize. There were 35 antique cars at the Calhoun Insurance Car Show. Festival guests also bid on 20-30 cakes in a silent auction featuring baked goods provided by area churches. 
The food portion of the event brought in $7,000, raised $1 at a time with guests purchasing 7,000 food samples dished up by Jacksonville and Calhoun County restaurants. 
For the second year in a row, the JSU Student Government Association scheduled its Welcome Week concert during Spirit on Mountain Street. Following last year's successful Riley Green concert, this year's show featured rising country star Morgan Wallen. Thousands of guests enjoyed the singer's performance, who sang his hit "Up Down," recorded with Florida Georgia Line, and other tunes. 
"By far, the single best part of this event is seeing our community welcome JSU students and faculty back HOME to Jacksonville for another great year as Gamecocks," said event organizer David Glass, a JSU alumnus and owner of Calhoun and Coosa Insurance. 
More than $11,000 was raised at the event, which will be donated to the Jacksonville Christian Outreach Center. The JCOC is a 501c3 non-profit organization governed by a Board of Directors comprised of representatives from more than 20 participating churches throughout the Jacksonville area. It combines the benevolence of area churches to better assist those in need in the community.