JSU Rebounding Six Months After Destructive EF-3 Tornado
09/18/2018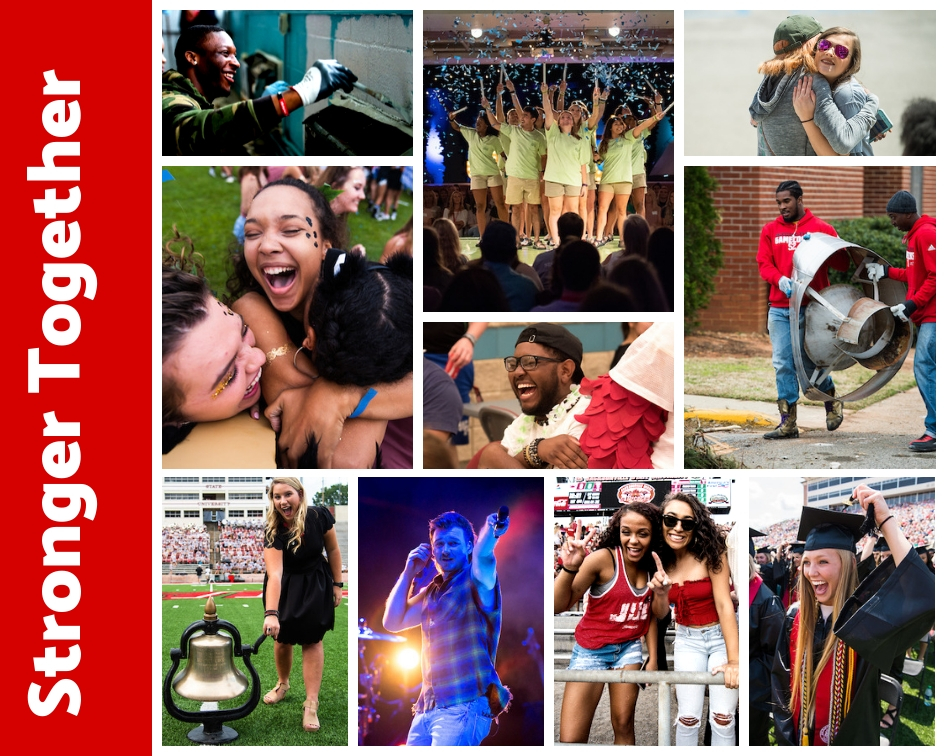 This Wednesday, Sept. 19, marks six months since a destructive EF-3 tornado tore through the campus of Jacksonville State University, damaging almost two-thirds of its buildings and derailing its spring semester.
Determined to not just
survive
but
thrive
, JSU faculty, staff and students united to achieve what at first seemed impossible – cleaning up storm debris in weeks, completing the spring semester on time, hosting spring commencement as scheduled, holding the summer semester as planned, finding alternate housing and classroom space, and kicking off the fall semester with steady enrollment.
Below is
 an update on where JSU is now, six months after March 19, 2018. 
JSU's enrollment remained steady this fall despite the challenges of recovering from a natural disaster. Undergraduate student enrollment decreased by 170 students compared to last fall, but this loss was counterbalanced by an increase of 82 graduate students. In total, the Fall 2018 enrollment was at 98.97% compared to last year. 
JSU's credit hour production – the number of credit hours students are enrolled in – dropped less than a percentage point over last year, holding steady at 99.19%. That means JSU may be down 88 total students, but since its students are taking more classes, revenue remains steady.
"This news is something to celebrate," President John Beehler said. "There were moments over the past few months when we thought we were facing an enrollment loss of 5-10 percent. That kind of drop would have been devastating to JSU both financially and socially. I am very pleased with these results and want to thank all employees for their efforts in the recovery and rebuilding process and every student who stood by the university during this difficult time."
Storm damage costs have risen from early estimates of $42 million to over $70 million, with 50 of 70 campus structures damaged. Today, 40 buildings have received or are in the process of receiving new roofs.
Work has been completed at
Logan Hall
,
Patterson Hall
, 
International House
,
Rock House
, the
Infirmary 
and the
Visitor's Center
.
Meehan Hall 
has been re-shingled and all fencing and scaffolding will be removed this week in time for Saturday's football game against Tennessee Tech.
Work is nearing completion and should be wrapped in the next two weeks at the
Theron Montgomery Building
,
Crow Hall
,
Dixon Hall
,
Curtiss Hall
,
Fitzpatrick Hall
,
Daugette Hall
and
Hammond Hall
.
Work will continue through October/November at
Ayers Hall
,
Bibb Graves Hall
,
Martin Hall
,
McGee Hall 
and
Stone Center
. Repairs will continue at
Houston Cole Library 
through January. Minor improvements are planned and work will begin soon at
Brewer Hall
,
Salls Hall 
and
Self Hall
. Repairs to the gymnasium at
Pete Mathews Coliseum 
are well underway and set for completion in December.
Merrill Hall 
is slated for demolition. The School of Business and Industry has moved to a repurposed former elementary school property owned by the university, located at 115 College Street SW, which is now referred to as the "School of Business and Industry Complex." Design plans are being finalized for a new business building, which is anticipated to open in Fall 2021.
The
Alumni House 
was demolished over the summer and the Office of Alumni Relations has been temporarily relocated to the School of Business and Industry Complex until a permanent home can be secured.
The
Honors House 
is being completely renovated with a new floor plan to better accommodate the Honors Program. In the interim, the program is continuing to operate in the conference room in Martin Hall, Room 107. 
The music side of
Mason Hall 
is being renovated and upgraded with major improvements to the performance center, practice rooms and ADA accessibility. Music classes and activities have been relocated for the semester.
Student Housing: 
All residence halls and on-campus apartments reopened this fall. The university improvised creative solutions to secure much-needed housing. Salls Hall, a former athletic dorm used in recent years for offices and classrooms, was brought back on line as a residence hall. The former Jacksonville hospital property, donated this summer to JSU by Regional Medical Center, is housing upper division nursing students in a unique Living Learning Community. Twenty-two mobile homes were also purchased to provide two-bedroom housing units for students.
The university's new
Fitness and 
Wellness Center 
is on budget and ahead of schedule, with an opening date of January 2019. A grand opening for the new
Baseball Stadium 
will take place on Sept. 28 at 2 p.m.
With the rebuild on track and enrollment steady, JSU's administration is optimistic about the future. Next week, the university will celebrate Homecoming and host the much-anticipated Alabama & Friends Benefit Concert. Both are expected to provide faculty, staff and students the opportunity to come together, reflect on all they have accomplished and make new memories.
"Showing the true Gamecock spirit, we rose up to meet every obstacle in our path," said President Beehler. "Now, six months later, we have made substantial progress ahead of schedule with bright and sunny days ahead. JSU is emerging stronger and better than ever!"