Hydration Challenge One of Many Health Initiatives to Improve Campus Wellness
09/23/2018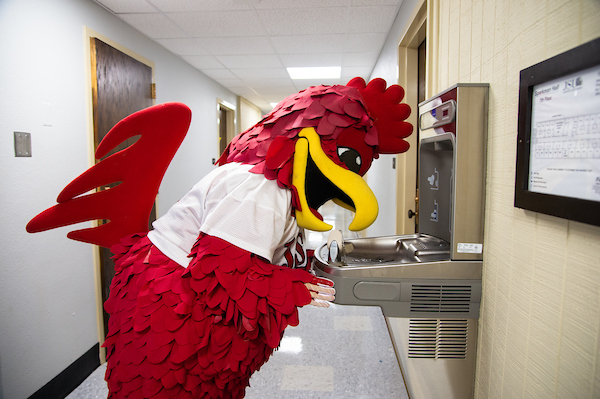 Motivation comes in many forms and fashions. While some are content playing Follow the Leader, others insist on being the leader. When it comes to creating and maintaining the habits of a healthy lifestyle, the race is long. But when it's done right, everyone comes out ahead. That's the goal behind the Hydration Challenge.
Starting Oct. 1, the Hydration Challenge is part of a series of free, online events sponsored as a collaborative effort between University Recreation and the Wellness Initiative Committee aimed at creating healthy habits for students, faculty and staff.
As its name suggests, the purpose of the Hydration Challenge is to encourage people to drink more water while learning how essential proper hydration contributes to overall physical health. Participants can log their daily water intake and receive educational materials. The challenge runs through Oct. 28 and will include both daily goals and an overall goal for the full four weeks.
The Hydration Challenge is the group's second online competition. In September, it hosted Let's Get Moving, during which participants were tasked with spending at least 30 minutes a day "sweating it out" through a favorite physical activity like walking, jogging, basketball, biking or taking a group fitness class.
There were 69 participants who joined the Let's Get Moving challenge, which included students, JSU employees and retirees. Many commented about how much the challenge helped with motivation to work out, said Amy Riggins, JSU's senior assistant director of University Recreation. 
"Each person's wellness journey is unique, yet taking part with others can inspire and encourage accomplishing more," Riggins said.
The Hydration and Let's Get Moving challenges are just the beginning of what will be a long-term commitment on the part of University Rec and the Wellness Initiative Committee to improve the health of JSU's overall community.
"In the future, we will also offer self-paced wellness challenges, as well as continue to have challenges with specific timelines and prizes," Riggins said. "Some individuals may prefer competition to stay motivated, while others enjoy the flexibility of a more private, self-paced challenge. A variety of challenges will offer choices, so individuals can select areas of wellness on which to focus."
All wellness challenges are free and open to everyone associated with JSU. Participants who complete the Hydration Challenge will receive a free JSU UREC water bottle, as well as being entered in a drawing for a larger prize. To participate, log into jsu.2act.co to set up an account and join the challenge.