Saying Goodbye to a Pair of JSU's Iconic Buildings
06/28/2018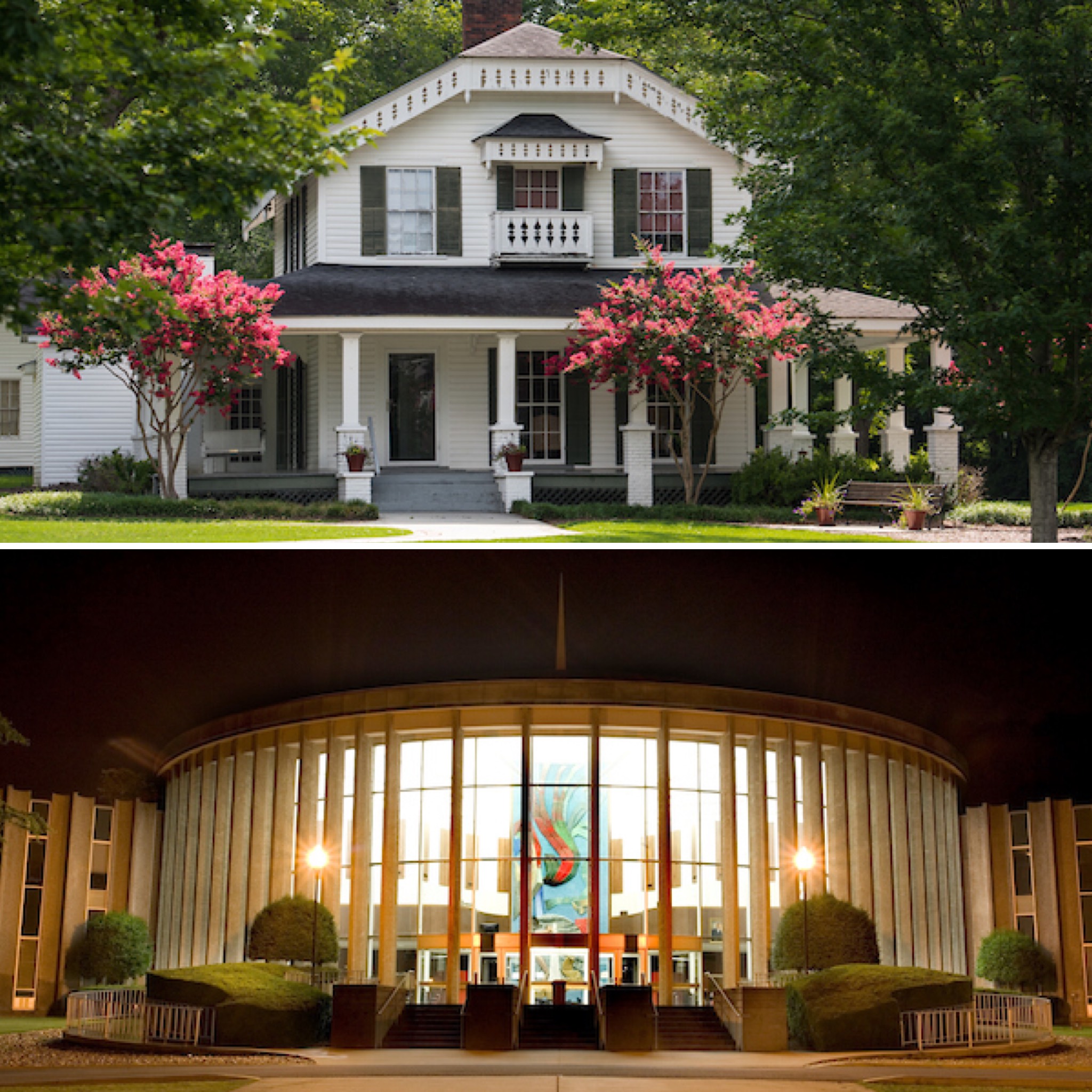 The Alumni House (top) has been torn down and demolition work will begin in mid-July on Merrill Hall (bottom).
When the 130 mile-per-hour winds of the March 19 tornado tore across the campus of JSU, the first concern was for the potential loss of life. But since the storm hit on the first day of spring break, the campus was largely deserted. Thankfully, no deaths or injuries were attributed to the storm on campus, but that didn't mean that nothing was lost.
In the coming days as the debris was cleared, David Thompson, JSU's director of facilities, and his staff, were charged with assessing the damage. The news was heartbreaking. In addition to the millions of dollars of necessary repairs, two of JSU's most recognizable buildings would be casualties of the EF-3 tornado. 
Hugh Merrill Hall, which houses the School of Business and Industry, and the Alumni House, home to Alumni Relations, would have to be torn down. New buildings are going to replace what has been demolished. Damage was not as severe at a third building originally thought to be irreparable, the Honor's House. Home to the university Honor's Program, the house is being repaired and renovated.  
Hugh Merrill Hall 
Merrill Hall opened in 1970 and was named in honor of Rep. Hugh D. Merrill of Anniston, who was instrumental in helping to change the status of JSU from a teachers' college to a state college and ultimately to a respected university. He also served as president pro tempore of the board of trustees for the university for 12 years – 1968 until 1980.
Through the curved windows that looked onto its atrium of Hugh Merrill Hall could be seen the building's calling card, a towering piece of art that inspired and was admired by generations of JSU students. The 44-foot-tall, 17-foot-wide mosaic, titled "The Fountain of Learning," was created by Spanish artist Vincente Rodale, along with 10 assistants, and has hung in Merrill for almost 50 years. The mosaic represents a young man drinking from a fountain of wisdom that springs from a gigantic seashell. It includes the Latin phrase, sedes sapientiaemeaning, "seat of wisdom."
"It's a piece of art that we're known for," said Bill Fielding, dean of JSU's School of Business and Industry. "Students – past and present – love it. It means so much to them."
Fielding, like so many in the area, was home watching the weather report as the storm gained strength, spawning the tornado a little after 9 p.m. As soon as the skies cleared the next morning, he went straight to Merrill. He was able to make it into his office to gather a few papers. Seeing firsthand what was left of the building where he'd taught since it was constructed was "sad and traumatic," yet he "didn't have much time to think about what all had been lost" because he "had to get building."
The school has moved into the former Kitty Stone Elementary School, where it will remain until a permanent home is built. The move brings JSU full circle because the former elementary school is on the site of JSU's original home back when it was a teacher's college.
"The job they've done is just incredible," Fielding said of the workers who spruced up the old school before JSU moved in. "The same goes for our faculty and staff. They've been working around the clock to get ready."
The word David Thompson, director of JSU facilities, would call the damage in a report was "catastrophic." Those windows that turned Merrill Hall into a gallery were shattered. 
However, the "Fountain of Learning" mosaic was largely unscathed by the storm. Fielding has received calls from former students from across the US worried about the mural.
"That's a miracle," Fielding said. "It was beautiful, and it meant a lot to people."
The mosaic has been removed, piece-by-piece, from Merrill Hall. The project took construction workers more than two weeks to complete as they ended up with more than 100 sections that will later be reassembled and hung in a new home somewhere on campus. 
Though no plans have been finalized yet, JSU President John Beehler has promised that when the mosaic is re-installed, it will serve as a memorial to the storm that destroyed its original home. 
The Alumni House
The Facebook post carried with it an avalanche of emotion.
Already reeling from the constant stream of pictures, video testimonials from university leaders and newspaper accounts of the destruction, JSU students past and present were confronted with the news that their beloved Alumni House was being torn down.
"Our hearts are heavy today after receiving word from engineers that our beloved Alumni House cannot be salvaged," began the June 1 post. "The tornado not only caused significant damage to the house but exposed unrepairable foundation issues lying below." 
The reactions were immediate and stricken. 
JSU's official Facebook page, which since the EF-3 tornado that hit campus on March 19 has served as a constant source of real-time information, suddenly became a place for mourning, as if after the loss of an old friend. Sorrowful comments poured in from near and far, most of which included wedding and reunion photos attached, all serving as a reminder both of the better times before the storm and good times that are sure to come. 
Mike Gibson commented that he was one of the first work study students to work in the Alumni House after its renovation in 1981, where he learned about databases, mailing lists, newsletters, fundraising, and special events – skills he's used ever since. 
"The Alumni House was a creaky old beast with a lot of echo," wrote Gibson, who is co-owner of Wicked Books in Salem, Mass. "But it had a warmth obviously enjoyed by so many for decades. A unique place that greeted you as you arrived on campus, said see you later as you left, and reminded you that you were always welcome to return. It is a loss."
Officially known as the Foster-Bellamy-Mattison-Fitts-Roebuck House, it was built by Capt. Bellamy around 1839 and with its "ornate eaves and balcony" the house "suggests Capt. Bellamy's love for riverboats," according to the Calhoun County Historic Driving Tour. 
The house was purchased by JSU for $225,000 in spring of 1981 and housed JSU's Alumni Relations office, which often rented it out for weddings and other celebrations.
The 130-plus mph winds on that fateful Monday evening closed a chapter in JSU history. The decision to demolish the Alumni House felt abrupt to some, but the tornado simply exposed the depth of damage lying beneath the surface. Extensive termite damage made it more expensive to save the 179-year-old Alumni House than to build a new one.  
But all was not lost. The original wood floors, interior and exterior doors, decorative molding and detailed wood finishings were saved. The commemorative bricks, walkways and parking lots were also unscathed. The original Alumni House is gone, but its memories will linger and soon, just as with Merrill Hall, new memories will rise along with a new building.
"Even the swing from the front porch is being repaired and will be incorporated into our new home," said Kaci Ogle, JSU alumna and director of Alumni Relations. "Our hearts broke to see the Old Lady come down but we look forward to a new facility to call home and all the possibilities that brings."