Renovations to Wallace Hall Make Way for More Students
06/28/2018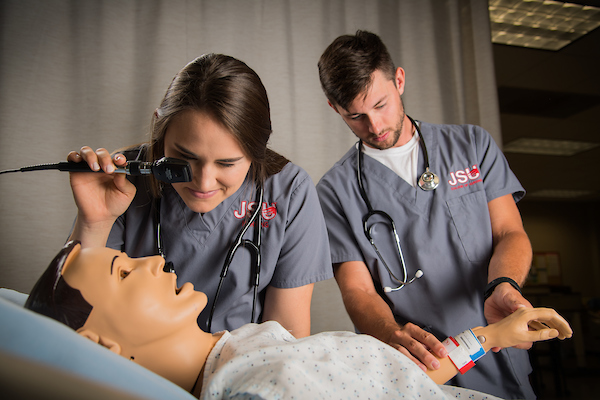 JSU Nursing will admit 45 percent more students per semester beginning in Fall 2018, thanks to Wallace Hall renovations.
The tornado that hit campus on March 19 caused millions of dollars in damages and ultimately led to Merrill Hall and the Alumni House being demolished. But out of so much destruction there has also come the opportunity for growth and reinvention.
Well before the storm caused significant damage to Lurleen B. Wallace Hall, home to JSU's School of Health Professions and Wellness, nursing program administrators had discussed ways of increasing enrollment despite limited space. 
"As much as we loved Wallace," said Dean Christie Shelton, "we needed more room. The layout of the building – I like to call it inappropriately placed space – just didn't work. We had too many open areas." 
Within days of the tornado, Shelton got a call. The damage to Wallace was more extensive than originally thought. They were going to have to gut the building and if they wanted to find room for more students – it was now or never.
"We got to work," Shelton said. "In about four days we redesigned the entire floor plan. This was a golden opportunity, and we weren't going to let it get away." 
Normally, the nursing program admits upwards of 70 new students each spring and fall semester. After remodeling Wallace, that number will increase 45 percent to 120 students. 
The updated building is scheduled to open in the spring and will include four enlarged classrooms. The skills lab, where nursing students practice basic skills such as checking vital signs, will expand to hold 20 hospital beds instead of eight. Three additional teachers will also be hired.
"To be able to say that we take 120 students in the fall and spring is tremendous," Shelton said. "By comparison, Auburn admits 200 students annually, while we'll be admitting 240."
But program administrators aren't waiting until the renovations are complete before welcoming more students. Starting this fall, 120 students will be accepted.  
For the immediate future, classes will be held at Houston Cole Library, while labs will be at the former Jacksonville hospital, which is closing June 30 and has been donated to JSU. 
For years, JSU's nursing program has been forced to turn away qualified applicants simply because there wasn't enough room. Before the tornado allowed for Wallace to be remodeled, JSU nursing had 145 applicants for 88 seats, with more applicants expected. 
The lack of classroom space for qualified nursing students isn't just an issue at JSU. According to the American Association of Colleges of Nursing, more than 64,000 applicants were turned away nationally in 2016 because of insufficient faculty, clinical sites, classroom space and budget constraints. 
"With us being able to increase enrollment by 45 percent," Shelton said, her voice rising with excitement, "We will be in a postion to address a critical nursing shortage in our communities."