Storm Damage Temporarily Sidelines New Recording Studio
05/03/2018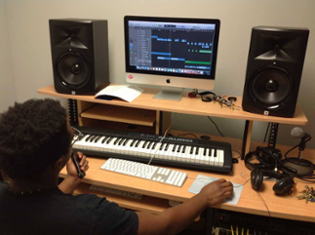 While the JSU Department of Music's main recording studio room and booth were unscathed by the March 19 tornado the electronics storage room and its contents were destroyed.
When an EF-3 tornado hit Jacksonville State University on March 19, it left a trail of devastation in its wake. One building suffering major damage was Mason Hall. Fortunately, the main portion of Department of Music's new recording studio wasn't impacted.
"The main recording studio room and booth were not damaged, but our overflow electronics storage room and equipment in that room were destroyed ­­-- cables, mixers, keyboards, a few other odds and ends," said Music Professor Dr. James Woodward, who manages the studio. "We basically lost a lot of accessories and backup components, but the main studio equipment was spared."
However, damage to other parts of the building have temporarily put the recording facility out of commission.
"The studio is unusable until Mason Hall is repaired," Dr. Woodward said. "They just began a second round of ceiling work on the second floor of Mason, which took out my second and third alternate rooms for the studio."
But that hasn't stopped the mission of the studio.
"We can still be productive on our projects, though, on other computers and we will build up a list of audio and sample recordings we want to make once we can build the studio again," Dr. Woodward said.
The recording studio was added to the Department of Music's education arsenal in August 2017, thanks to a $10,000 Faculty Commons REAL Teaching/Classroom Grant. It's an endeavor that earned Dr. Woodward the Ringer Faculty Development Award at JSU's annual Faculty Awards Reception earlier this month.
Since the studio's inception, students and faculty alike have created a variety of projects featuring ensembles in a number of genres. Through the studio's label, Vintage Sweater Records, several projects have already been released, including "Eryn Oft: Out of the Box," recorded by Music Professors Eryn Oft Mark Brandon and Andrew Lynge, along with cellist Bryce Anderson and percussionist Colin James. It's available on iTunes, Spotify and Google Play.
"We also provided recording services for The Marching Southerners with Teresa Stricklin's voice-over for the 2017 show 'Angels Among Us,' the JSU Steel Band's drum set recording for 'Number 2' by Dave Longfellow on the recent JSU Jazz CD," Dr. Woodward said, "and for Daniel O'Donnell's senior, Music Education Instrumental Tracks for 'The Sound Shelter' Recording Studio, including 'Tongue Tied' by Paola Proctor and 'Meet Me in a Sad Song,' by Reckless Johnny Whales, featuring Alicia Michilli, featuring JSU students Daniel O'Donnell, saxophone; Braden Barrentine, trombone; and Jason Warren, trumpet."
Once Mason Hall is repaired, complete with a new roof, Department of Music faculty plan on using the recording studio and to continue improving it to further musical education opportunities.
"As soon as Mason Hall is waterproof again," Dr. Woodward said, "and as President Beehler said, 'We will rebuild, and we will be better than ever.'"