Pete Conroy Receives Tourism Award
05/25/2018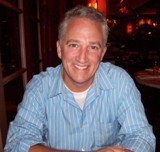 JSU Environmental Policy and Information Center Director Pete Conroy has been named a North Alabama Elite Tourism Professional. He was selected for his involvement preserving Little River Canyon and developing the Jacksonville State University Canyon Center.
NAETP is a program of the Alabama Mountain Lakes Tourist Association (AMLA) where tourism employees demonstrating outstanding customer service and hospitality in the 16-county North Alabama region are recognized in celebration of National Travel and Tourism Week.
Joining Pete is receiving this honor are Cathy Cureton, DeKalb Welcome Center;
Ray Padgett, Mentone Multicultural Center; and Mike Sweat, Northeast Alabama Agri-Business Center.
May is National Tourism Month, and National Travel and Tourism Week was celebrated from May 6-12. This year's celebration marked the 35th anniversary of the 1983 congressional resolution that established National Travel and Tourism Week, and it's all about celebrating the contributions and accomplishments of the U.S. travel community over the course of the last several decades.
"Across North Alabama, travel employs a prosperous and diverse workforce, from airline and hotel employees to restaurant, attraction and retail workers, and supports related sectors such as construction, manufacturing and finance," said AMLA President and CEO Tami Reist. "The North Alabama Elite Tourism Professional recognition honors those individuals in the 16-county region of north Alabama who offer top-notch service to visitors and is committed to the success of the tourism and travel industry. I am proud to say Mike, Ray, Pete and Cathy all meet the criteria for this prestigious honor."
Continue the National Tourism Month celebration on into the summer by visiting the Little River Canyon Center, located in Fort Payne.