JSU to Hold Spring Commencement on May 4 Only Six Weeks After Natural Disaster
05/03/2018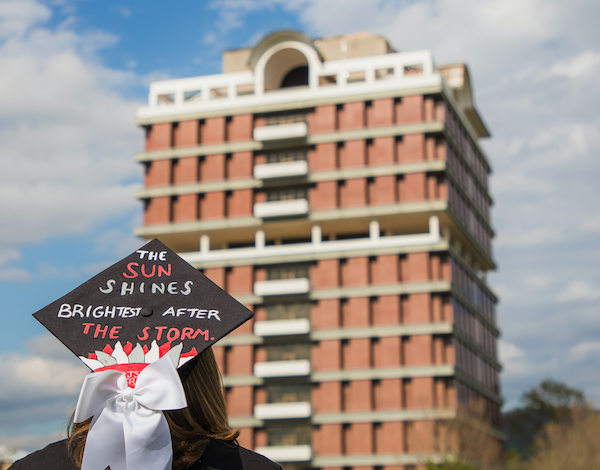 Graduating JSU student Lauren Jackson says "the sun shines brightest after the storm." Photo courtesy of Pam Haynes Photography.
It's only been 45 days since a powerful EF-3 tornado plowed through the campus of Jacksonville State University, leaving a $42 million trail of destruction in its wake. It's only been 7 days since President Donald Trump declared the area a major disaster. It's only been 1 day since FEMA representatives began pouring into the city to assist with the processing of federal aid. 
Yet, on Friday, May 4 - in an act of resilience and perhaps even defiance - the university will hold its spring commencement ceremony, drawing an end to the bedraggled semester while celebrating the triumph of the Gamecock spirit. More importantly, the university will award 800 degrees to students who feared 45 days ago the March 19 tornado would derail their plans to graduate and launch their careers.  
The entire Gamecock family will gather together in one large commencement ceremony on Friday at 10 a.m. in JSU Stadium. Damage to Pete Mathews Coliseum forced the university to condense three ceremonies into one and move it to the stadium's Burgess-Snow Field, home of Gamecock football team. The event will mark the end of the spring semester and the beginning of the next chapter in the university's rebuild.
Summer classes begin May 16 and the university expects to be back to full operations in time for the fall semester on August 21. Applications for admission will be processed all summer for those hoping to join the JSU family. 
CEREMONY DETAILS
Length: The ceremony will be historic, heartwarming and long. Every arrangement has been made to speed it up, but the event could take up to four hours due to the number of graduates. 
Food: The stadium's concession stands will open up and be selling small snack items, such as candy and soft drinks, to hungry guests. 
Parking: A special graduation day parking map is available online.
Shuttle: A free shuttle service will be available from University Circle, Houston Cole Library and Pete Mathews Coliseum starting at 8 a.m. and ending one hour after the ceremony. 
Bags: The Athletics' Department's clear bag policy will be enforced. 
Babies: Strollers and diaper bags will be allowed in the stadium. 
Accessibility: Accessible parking is available on the east side of Meehan Hall's parking lot. Accessible seating is located on the east side of the fifth floor of Meehan Hall. One person is able to accompany each accessible seating guest. Captioning Services for deaf and hard of hearing individuals will also be available. ASL interpreting will be provided on stage. Golf cart assistance will be provided for the areas designated for accessible parking. To request additional accommodations please contact Disability Support Services at dss@jsu.edu or 256-782-8380 (voice or TTY). 
Broadcast: The ceremony will be televised live on WEAC-TV24 (local Cable One Channel 9). It will also be streamed live on the OVC Network. 
Agenda: 
PROCESSIONAL 
WORDS FROM PROVOST
PRESENTATION OF NATIONAL COLORS
THE NATIONAL ANTHEM
INVOCATION
PRESIDENTIAL WELCOME
BOARD OF TRUSTEES WELCOME
GRADUATING STUDENT SPEAKERS (3)
ALUMNI SPEAKER
KEYNOTE SPEAKER (Congressman Robert B. Aderholt) 
CONVOCATION BELL RINGING
CONFERRING OF DEGREES:
School of Arts and Humanities

School of Business and Industry

School of Education 

School of Health Professions and Wellness

School of Human Services and Social Sciences

School of Science
HOODING OF DOCTORAL GRADUATES
HOODING OF EDUCATIONAL SPECIALIST AND MASTER GRADUATES
ALUMNI AFFAIRS REMARKS
BENEDICTION
I'll FLY AWAY 
RECESSIONAL
For more information on graduation, visit http://jsu.edu/registrar/graduation.html.