GO! Team Gearing Up for 2018-19 Orientation
05/09/2018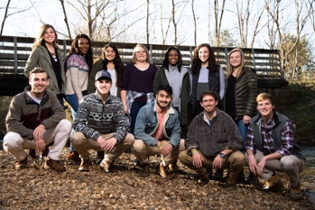 Gamecock Orientation for the 2018-19 academic year kicks off in June with the theme, "Your Adventure Begins Here." JSU plans to welcome between 1,200 and 1,300 new students and their family members to the campus in the events.
The goal of Gamecock Orientation is to achieve the following:
Introduce the JSU undergraduate community to new students from an academic and personal perspective.
Provide information and assistance to new students (and their families) so that they may succeed academically and develop socially.
Utilize GO! Leaders who can share their own experiences as a source of support and information.
Allow new students to meet each other and interact in small group settings to develop new relationships.
Provide information on the variety of student services offered on campus so that students will feel comfortable navigating the university on their own.
2018-19 GO! Leaders and Specialists helping new students get acclimated to JSU include:
Team 1
Megan Ogle, GO! Leader, communications/PR
Jack Gehrdes, GO! Leader, political science
Jennifer Foster, GO! Specialist, English
Team 2
Kuvvat Jorayev, GO! Leader, finance
Jenna Bennett, GO! Leader, finance
Christy Burns, GO! Specialist, English
Team 3
Reyna Ramirez, GO! Leader, nursing
Ann-Katherine Dothard, GO! Leader, nursing
Brent Helms, GO! Specialist, chemistry
Team 4
Jalia Wilkins, GO! Leader, criminal justice
Stone Alexander, GO! Leader, pre-health prof biology
Erin Rider, GO! Specialist, sociology
Team 5
Skylar Fontaine, GO! Leader, occ safety/health management
Danielle Sanders, GO! Leader, nursing
Katelyn Williams, GO! Specialist, English
Team 6
Patrick Hubbard, GO! Leader, nursing
Caitlyn Whitehead, GO! Leader, nursing
Allen Gilbert, GO! Specialist, kinesiology
Gamecock Orientation Dates:
June 7, 12, 14, 19, 21 and 26
July 12, 17, 19 and 24
Transfer Orientation Dates:
June 8 and August 6
Freshman Convocation:
August 20