Brewer Hall Renovations Unimpeded By Tornado Damage
05/11/2018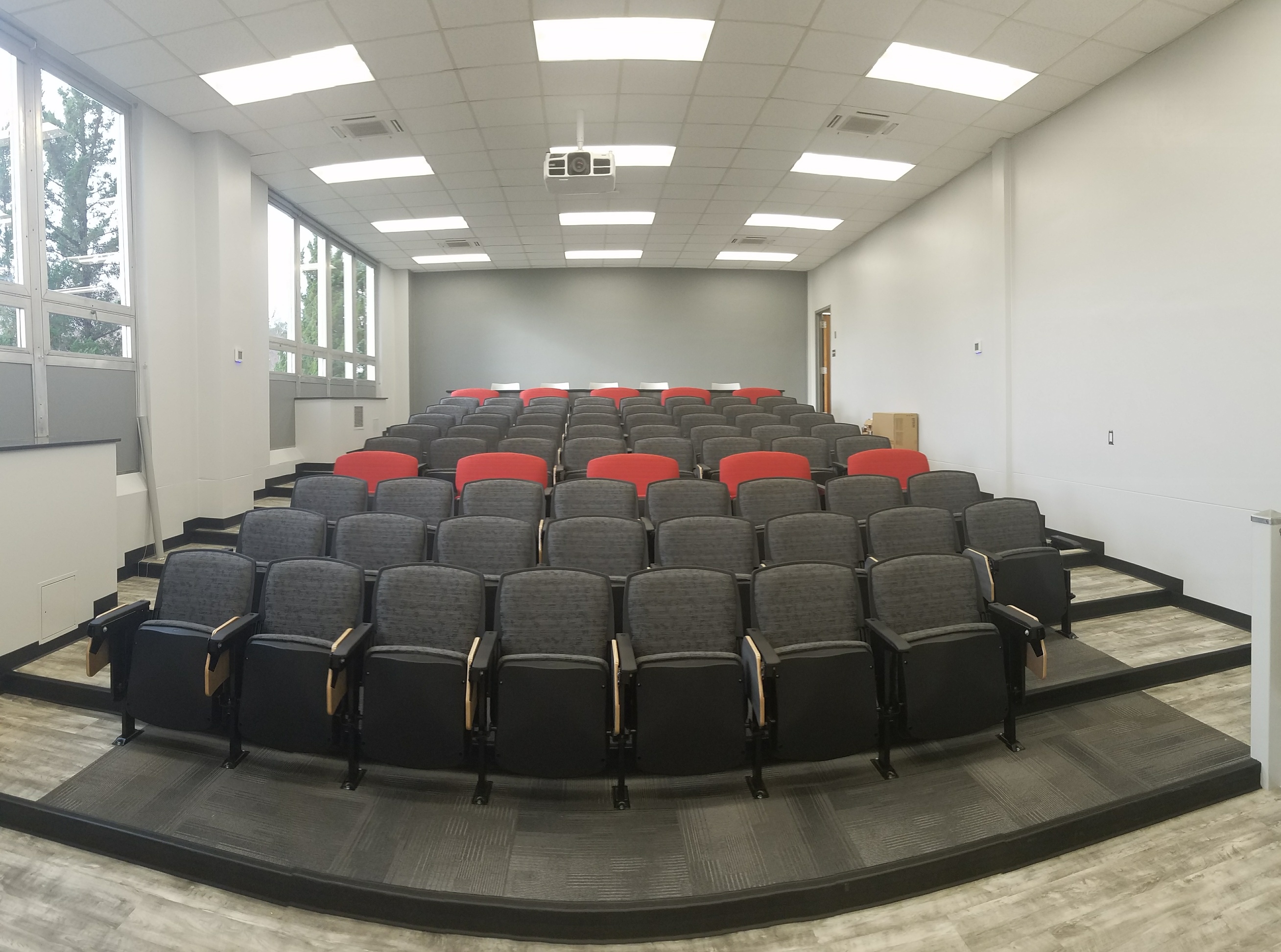 One of the newly updated classrooms in Brewer Hall.
Just as renovations to portions of Brewer Hall were under way, the building – like much of campus – was  impacted by the EF-3 tornado that hit JSU and the surrounding community on March 19. Fortunately, those upgrades were spared by the devastation.
"The inside of the building, especially classrooms, suffered little damage and nothing had to be relocated," said Dr. Maureen Newton, dean of the School of Human Services and Social Sciences. "The rooms are not finished being remodeled, so some of the new classrooms were not at risk. We only have two fully remodeled classrooms, and we are waiting for two others to be completed. There was no significant damage to the new classrooms."
Renovations to Brewer Hall have been ongoing for more than two years, impacting approximately 300 student seats in the building. Updates include:
Lobby and First Floor: Walls painted, new signage for the school 
New signage for the departments on each floor
Lighting for the entire building (florescent to LED) 
Ceiling tiles for the entire building
Computer Lab, B-103: New student and instructor computers
Total Room Renovation, Room 141:  HVAC, theater style seats with adjustable writing desk/arm, flooring, blinds, movie screen, theater quality speakers, technology station, walls, paint, ceiling tiles, lighting
Total Room Renovation, Room 212: flooring, walls, blinds, tables, chairs, glass board, technology
Total Room Renovation, Room 328:  flooring, walls, blinds, desks, white boards, new screen and projector
Partial Room Renovation, Room 122: Computer lab with new student and instructor computers, flooring, paint, technology-projector and screen, updated wiring, new blinds
Partial Room Renovation, Room 231: HVAC and new technology 
Partial Room Renovation, Room 330: flooring, walls, blinds, tables and chairs
Plans are also underway to add JSU information monitors/televisions to each floor, as well as to update Room 228 with flooring, walls, blinds, desks and technology. While these upgrades weren't impeded by the storm, that doesn't mean the building went unscathed.
"Brewer Hall had similar damage to other buildings, just to a lesser extent," Dr. Newton said. "We have roof damage, and the roof is currently being replaced."
The building also lost 5-10 windows, which are patched with plywood, and suffered damage to exterior lighting, brick facade and the ADA entrance, which are undergoing repairs. Fortunately, damage to the building's rear awning, ceiling tiles and interior frames in faculty offices and classrooms are near completion. Another piece of good fortune is that classes haven't needed to be relocated. All repairs should be completed by the start of the fall semester. 
 "Full steam ahead," said David Thompson, director of capital planning and facilities. "At this moment, we intend on Brewer Hall being fully functional for the fall semester."