Thank You, Volunteers!
04/19/2018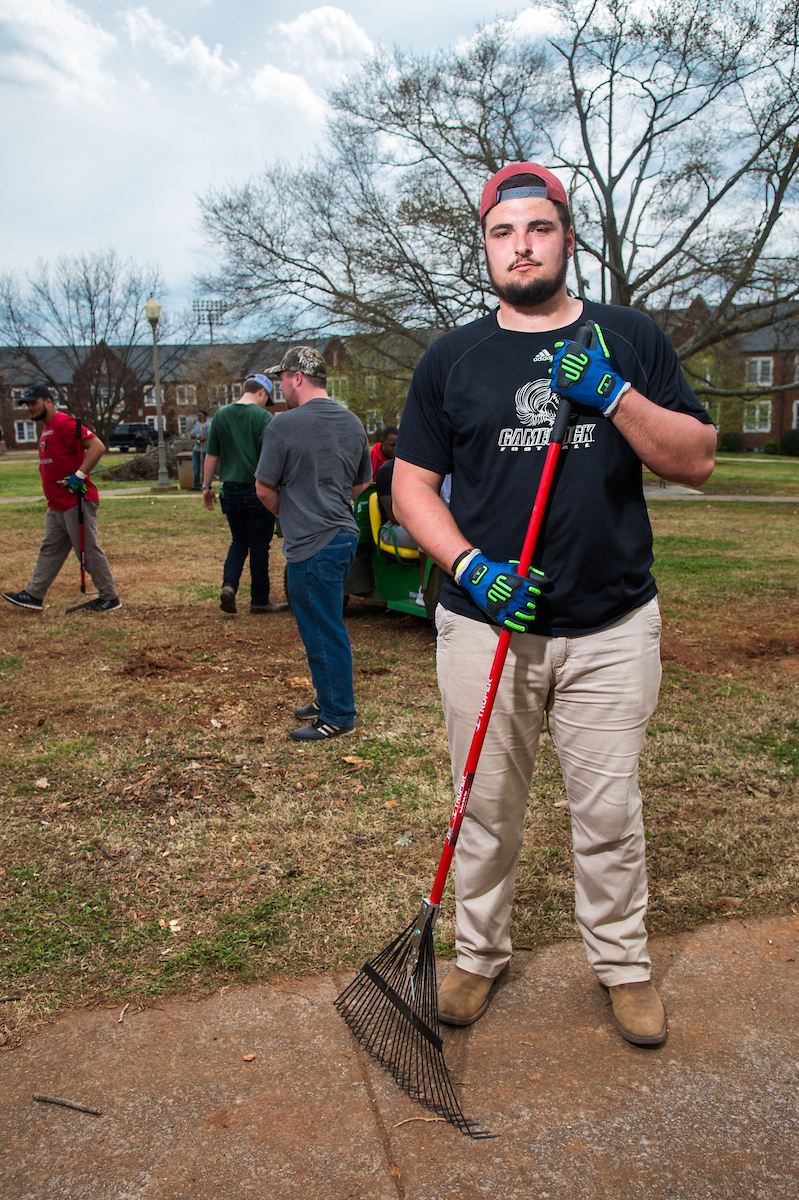 As soon as news spread throughout the state and nation on March 19 that Jacksonville State and the City of Jacksonville had been hit by a destructive tornado, there was an outpouring of support from those wanting to volunteer with cleanup and recovery.  
For the first three weeks following the storm, a Volunteer Reception Center was operated by the United Way at the Jacksonville Community Center. More than 5,000 individuals volunteered, many of them on multiple days, through this center. 
Once the university reopened, the Volunteer Reception Center began sending trained volunteers to help with cleanup efforts on campus. In addition to the thousands of volunteers in the community, JSU has had more than 500 volunteers working nearly 6,000 hours so far on campus. The university would like to thank all of those who have volunteered to help rebuild our beautiful campus and our beloved city.  
We have had volunteer groups from the following community partners so far: 
Abba's House
All State
All Walks of Life
AmeriCorps
Cleburne County Youth Leadership
Leadership Calhoun County
Lowe's
Matrix
MedMark
MDA Professional Group
The Regenerate Society
Regions Bank
Triplett
Turner
Wells Fargo Advisors - Anniston
JSU also had an outpouring of support from our peers in higher education. Auburn University and the University of Alabama stepped up to help right away. Auburn sent its emergency management professionals and police officers to assist while Alabama sent an entire delegation from its administration to share knowledge and expertise gained from the April 27, 2011 tornado that struck its campus.
There were numerous other colleges and universities that volunteered or donated to the recovery efforts, including:
Appalachian State University
Athens State University
Auburn University 
Auburn University at Montgomery
Austin Peay State University
Belmont University 
Berry College
Faulkner University 
Ferris State University
Gadsden State Community College
Georgia Highlands College
Kennesaw State University
Murray State University
Samford University 
School of the Art Institute of Chicago
Skidmore College
State University of New York - Plattsburgh
Tennessee State University
Texas Christian University
Troy University 
Washington and Jefferson College
University of Alabama
University of Alabama at Birmingham
University of Montevallo
University of North Alabama
University of South Alabama 
University of West Alabama
Ohio Valley Conference
JSU students, faculty and staff – many of them storm victims themselves – also volunteered to clean up the campus. While many individuals gave back, JSU volunteer groups included: 
GO! Leaders
Center for Economic Development 
JSU Athletics 
JSU Fraternity & Sorority Life
JSU SGA 
Don't see your group on the list of volunteers? We are so sorry we didn't write down your name during the frenzy of activity following the storm. Please just send an email to jsunews@jsu.edu and we'll get your hours recorded and added to the list. Still want to volunteer? Contact Andy Green, Director of Community Engagement, at green@jsu.edu.
Thanks for all your help! With friends like these, we continue to be JSU Strong, Gamecock Strong and Jacksonville Strong!