JSU Strong: Coach Grass Enlists Football Team In Campus Cleanup Efforts
04/13/2018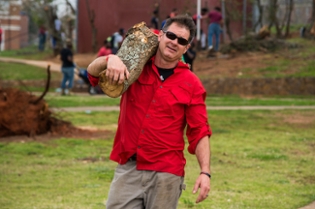 JSU Football Head Coach John Grass counts himself fortunate that his neighborhood was spared when an EF3 tornado wreaked havoc on the city of Jacksonville and the JSU campus on March 19.
"It missed us by probably about 200 yards," he said. "It's kind of the way the avenues are and the neighborhood right here beside the campus is. One house would be destroyed, the next house has got all the trees down and the next house hasn't got anything damaged. But the main thing is that everybody's alive and we have no casualties. That's a good thing."
The week after spring break, Grass enlisted his team to join in cleanup efforts of the heavily damaged campus as part of the effort to get the university back up in running.
"We've been out pretty much every afternoon, just doing what we can do," the coach said. "We feel like we're just making a dent in it. But if everybody keeps making dents in it, we'll get it back. It's not going to be a quick process. It's going to be a long process. We just want our guys to get out and be a part of that."
The Gamecocks' efforts haven't gone unnoticed.
"I've got several calls about people being on a site with them and they're working hard, doing what they can do," Coach Grass said.
It's those efforts and attitudes that bring hope even after such devastation.
"It's not the way you want to end your spring semester, but you just want to do your part in building this place back," Coach Grass said. "I think, with confidence, we'll build it back bigger and better than what it was."