Cocky Nursing 5k & 1-Mile Fun Run to Carry On
04/02/2018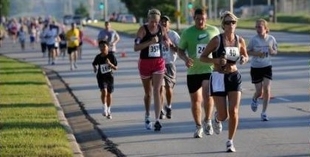 The annual Cocky Nursing 5k and 1-Mile Fun Run tradition will continue this weekend, despite recent devastation to the JSU campus and its surrounding community. But there will be some slight changes.
The main change is the event's name, "Cocky Nursing Strong 5K and 1-mile Fun Run 'Our building was broken, but our spirit is stronger than ever.'"
"The focus has shifted to JSU Nursing Tornado relief," said Race Coordinator Carla Willingham.
The location of the event has shifted, as well. It will now be held at Parker Memorial Baptist Church in Anniston. But it's still slated for Saturday, April 7. Race-day registration starts at 6:30 a.m., with the 5k starting at 8 a.m. and the Fun Run kicking off at 8:45 a.m.
The annual event had originally been canceled after a March 19 tornado swept through Jacksonville. However, public response motivated organizers to continue.
"The decision to cancel was made by directive of the Provost due to uncertainty of building and course safety," Carla said. "Community response was huge regarding continuing the 5k."
That response included an offer for a more secure racing course.
"Mr. Greg Stone, representing Parker Memorial Baptist Church, reached out to us with the proposal of their organization putting on the 5k for us in the new location," Carla said.
Entry fee is as follows:
$20 for online pre-registration through Thursday, April 5
$10 for all JSU students, faculty/staff and members of Anniston/Gadsden Runners Club
$20 cash or check only for same-day registration
$10 for 1-mile fun run (without T-shirt)
For more information or to register, visit http://www.jsu.edu/nursing/survey/run.html.