Students return from spring break, plunge into relief work
03/23/2018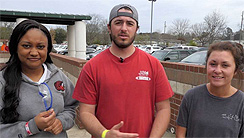 Alex Partridge was on spring break vacation at the beach when she heard that one or more tornadoes had plowed through Jacksonville State University. Her mind immediately went back to 2011, when she huddled in a storm shelter in Hueytown watching trees bent over to the ground as tornadoes devastated much of Alabama.
For her, the vacation was over.
"I stayed up until 3 a.m. shaking, and looking at pictures of the damage in the Jacksonville area. I know what it's like, and I know what the morning after looks like," she said.
Now, even though she's unable to get into her residence at JSU to retrieve her clothes and other belongings, she's back in Jacksonville and was signing up to work as a volunteer to help other storm victims.
And because of her experience in 2011, she also knows firsthand how a disaster can pull people together and make a community stronger.
"I'm already seeing it. Today, people were putting together 'care packages' to take to people who have had belongings destroyed or who can't get into damaged buildings to get to them," said Partridge, who currently has only the clothes she took to the beach.
In many cases, victims and relief volunteers were the same people. She described sorority sisters opening their closets and saying "Just go in and take whatever you need.
"I just hope people realize this is going to take a long time. It's easy to lose interest after a few days, but the work will go on. I just hope people keep pitching in and helping each other," she said.
Also on vacation with her and other friends was Wesley Waddell, a senior biology major from Dallas, Georgia. "My house is fine, but others nearby were destroyed. I was shocked when we got back and saw the damage. We always watch the forecasts and hear about these horrible things that are going to happen, but when you see the reality, it's worse than pictures can ever show you," he said.
Tia Pendleton, a senior Jacksonville native majoring in kinesiology, said she is relieved that her friends are safe. "A few of my sorority sisters and friends lost their apartments, and some can't get to their stuff, but they're all safe," she said. She noted that two friends are staying with her until their parents can come get them.
"But people have been great. We've had people who sell clothes coming around and giving away clothes, and donating gift cards," she said.