JSU Students Lead Peers at Collegiate Legislature
03/11/2018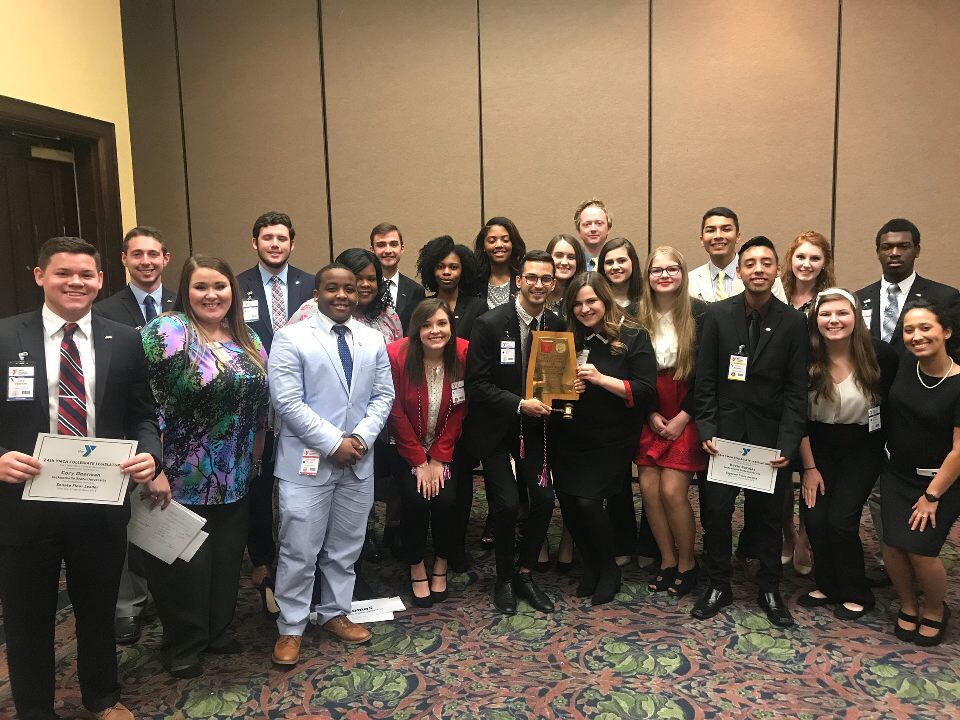 JSU was recognized as the most outstanding delegation with the Speaker's Cup.
JSU students dominated at the annual YMCA Collegiate Legislature on March 1-3 in Montgomery, winning the Speaker's Cup as the most outstanding delegation.
The following students served in key positions:
Hayden Clay, Lieutenant Governor
Corey Deerman, Senate Floor Leader
Ulises Herrera, Senate Clerk
Kyteria Marshall, Chief Justice
Hunter Limbaugh, Attorney General
Miranda Fairel, Media and School Representative
DeLena Harris, Chief of Staff
Kyra Watral was awarded the Statesman of the Senate Award, recognizing her as the most outstanding delegate in the Senate, while Jerod Sharp was awarded the Statesman of the House Award, recognizing him as the most outstanding delegate in the House. Hayden Clay, DeLena Harris, Hunter Limbaugh and Kyteria Marshall were recognized with honor cords for graduation, signifying over two years of involvement in the organization.
Looking ahead to 2019, JSU delegates were elected or appointed to nearly half of the major positions for next year:
Corey Deerman was elected Lieutenant Governor
Ulises Herrera was elected President Pro Tempore
Desmond Thomas was elected Speaker Pro Tempore
Mariana Alvarez was elected Senate Floor Leader
Adam McNeal was elected House Floor Leader
Hannah Leonard was appointed House Clerk
The Alabama YMCA Collegiate Legislature the state's premier College Mock Legislative Conference. Delegates have the opportunity to draft, present and debate pressing, relevant bills on the floor of the Alabama House of Representatives. This hands-on learning experience provides college students with a better understanding of the legislative process in Alabama, and the elements necessary for effecting positive change through legislative procedure.