Michael Boynton Honored for Innovative Teaching
03/01/2018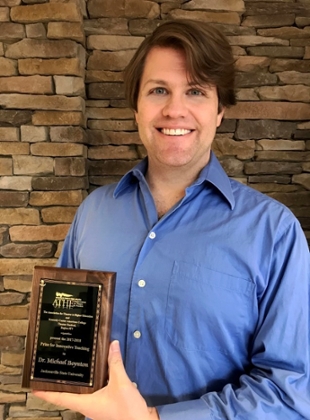 Dr. Michael Boynton, assistant drama professor, has been awarded the 2017-2018 Prize for Innovative Teaching from the Association for Theatre in Higher Education and The Kennedy Center American College Theatre Festival, Region IV. A rare and prestigious honor, this award celebrates the best, most innovative professors of theatre across the country.
Boynton, who is an assistant professor of acting and movement, holds an MFA in acting from Wayne State University, an MFA in musical theatre writing from New York University's Tisch School of the Arts, and a PhD in theatre and performance studies from the University of Maryland, College Park.
He has worked professionally as an actor with national companies like the Hilberry Repertory Theatre in Detroit and the Chesapeake Shakespeare Company in Baltimore. His dramatic writing has been produced nationally and internationally, and even appeared on Broadway in shows like the musical "Hairspray." In Alabama, he has worked primarily as a director. His JSU directing credits include "An Enemy of the People," "The Tempest," "Bloody Bloody Andrew Jackson," "Into the Woods" and "The Seagull."
Boynton was also the 2017-2018 recipient of the ATHE/Kennedy Center Prize for Innovative Teaching.