Campus Safety Week March 12-15
03/08/2018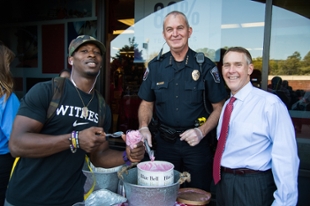 UPD Chief Shawn Giddy (center) and President John Beehler serve ice cream to students a SGA/UPD mixer.

Before students head out of town for spring break, the Student Government Association and JSU Police Department will host Campus Safety Week on March 12-15 to educate the campus on personal safety. Representatives from both the SGA and UPD will be on campus throughout the week to provide safety tips and training.

Schedule of Events

Monday, March 12 – Vehicle Safety Table: 11 a.m.-2 p.m. in the TMB lobby.

Tuesday, March 13 - Impaired Vision Driving Course: 11 a.m.-2p.m. at the Stephenson Hall Parking Lot.

Wednesday, March 14 – UPD Active Shooter Training: Two 30-minute sessions, one at 10 a.m. and the other at 1 p.m. will be held at 1103C Houston Cole Library.

Thursday, March 15 - UPD/SGA 2nd Annual Student Appreciation Day Event: This event that culminates Campus Safety Week is set for 10 a.m.-2 p.m. in the Leone Cole Auditorium. It will include food, music, a blue decal drawing. Plus, multiple organizations will host tables and promote different safety topics.

Student Appreciation Day is the result of a partnership formed in the 2016-2017 year between the UPD and SGA to improve the relationship between students and campus police.