Faculty Spotlight: Jeff Dodd
02/28/2018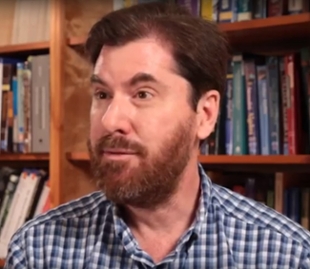 For mathematics professor Jeff Dodd, helping students connect with math is a calling.
"I enjoy continually revisiting elementary mathematics where, if you remain alert, all sorts of little surprises and puzzles lurk just beneath the familiar litany of topics that comprise our course syllabuses," the Hamilton, New York native said. "But, of course, the happiest moments for all of us in teaching are those moments when we see that we have inspired some of our students to take an interest in mathematics, helped them understand some mathematics, or at least managed to convince them that mathematics can be interesting."
Dodd has been teaching at JSU since August of 1996 and was recently honored for his work by American Mathematical Monthly for his scholarly working on pedagogical writing.
Dodd's teaching style sticks to a traditional lecture and discussion format, while occasionally flipping the classroom.
"I try to remind students periodically of the big picture: What are we doing and why?" he said. "In mathematics, it is easy to get lost in technical details and distracted by small (but sometimes quite irritating) tangential issues that can obscure and clutter what is otherwise beautiful mathematics."
Dodd's own love affair with mathematics developed when he was an undergrad majoring in physics at the University of Maryland at College Park.
"As a physics major, I had been exposed to quite a bit of mathematics and realized that there was a lot more going on there than was being presented in the elementary courses," he said. "So, I decided to delve a bit deeper and give it a try as a major to see what it was all about. Ultimately, it turned out to be about the precise use of language to facilitate and express clear thinking, and that was very much to my liking."
Dodd went on to earn his Bachelor of Science degree in Mathematics from the University of Maryland at College Park. He then received his M.S. in Mathematics from the University of Pennsylvania before returning to the University of Maryland at College Park to earn his PhD. in Mathematics.