Winter Storm Closes Campus Again on Jan. 17
01/16/2018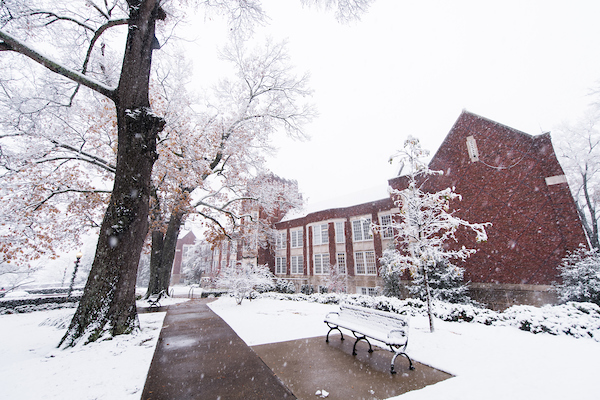 Jacksonville State University will be closed on Wednesday, January 17, due to winter weather. Classes will not meet and offices will be closed. 
Although the Arctic cold front forecast for Alabama was slow in arriving on Tuesday, the Winter Weather Advisory remains in effect for Northeast Alabama through Wednesday morning. 
According to the National Weather Service, snowfall totals are forecast to remain less than 2 inches but impacts to travel could be significant due to temperatures falling into the teens and 20s this afternoon and evening. 
The Jack Hopper Dining Hall will be open for residents for dinner on Tuesday night, 4:30-7 p.m., and on Wednesday from 10:30 a.m. to 2 p.m. and 4:30-7 p.m. The Gamecock Express will not run on Tuesday or Wednesday.
Spring Registration will be open through Thursday, January 18. Other spring deadlines that have also been extended to Thursday include:
Payment and Payment Plan Due Date
Last Day to Register or Add a Class
Last Day to Drop a Class and Receive a Refund
Last Day to Withdraw From All Courses and Receive a 100% Refund
Last Day to Apply for Spring Graduation
Students may also continue to purchase books and meal vouchers with Financial Aid through Jan. 18. The Bookstore suggests students who plan to purchase books using Financial Aid do so online, so their books will be waiting for them when campus reopens. 
Deadlines cannot be extended past Thursday, due to pending student account refunds. The university will work to get as many refunds as possible processed for the spring refund scheduled to begin on Tuesday, January 23. Personnel will continue to work over the weekend to get the rest processed, however, due to banking deadlines, it is possible that some refunds will be delayed.