Transfer Pathways Program Marks One-Year Anniversary
12/18/2017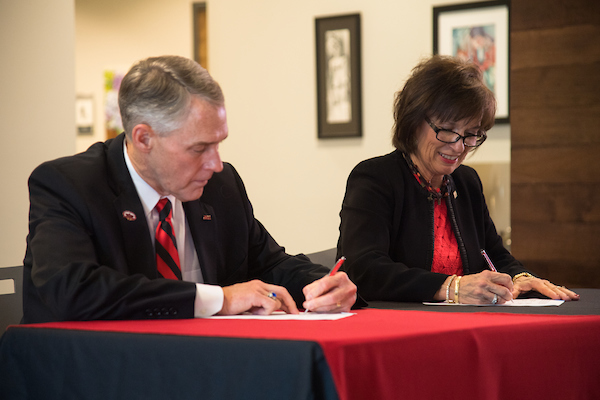 JSU President John Beehler signs a transfer agreement with GSCC President Martha Lavender.
The JSU Transfer Pathways program will celebrate its one-year anniversary this spring by rolling out its first five programs of study at Gadsden State Community College: 
Biology
Business
Chemistry
Child Development
Nursing 
Beginning Spring 2018, GSCC students will receive advisement into these programs by college staff. JSU's transfer advisor will be visiting the campus weekly to oversee transfer admission policy and procedure. These students will then seamlessly transfer into the related bachelor degree program at JSU upon graduation from Gadsden State. 

JSU launched the Transfer Pathways program last spring in an effort to significantly increase the transferability of students from community colleges. The pathway model allows students to enroll in specific courses at the community college level that will better prepare them for the major they wish to pursue at JSU. 

In the past year, JSU has signed transfer agreements with the following Alabama colleges: 
Gadsden State Community College (Anniston, Gadsden, Centre) 
Northeast Alabama Community College (Rainsville) 
Southern Union Community College (Wadley, Opelika, Valley) 
​For more information about the Transfer Pathways Program, contact Dr. Jean Pugliese, executive director, at pugliese@jsu.edu.