JSU Announces New Dean of Education
12/18/2017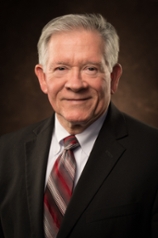 Dr. Tommy E. Turner
Tommy E. Turner has been named dean of the School of Education at JSU, having served in the position on an interim basis since October 2016.
"I am deeply appreciative of the opportunity I have to serve in this capacity, and I am constantly conscious of the responsibility that comes with it," Turner said of the appointment. "JSU has been among the leaders in Alabama, if not the leader, in providing classroom teachers, administrators, counselors and librarians to the P-12 schools and systems in our region and beyond."
Turner joined Jacksonville State in May 2003 as an assistant professor of counselor education. The ordained minister has more than four decades of teaching experience, including positions at New Orleans Baptist Theological Seminary, University of Alabama and Samford University.
In his new role, Turner plans to continue JSU's commitment to equipping educators with the skills they need to serve the ever-changing scholastic landscape.
"It is our goal to continue to produce first-year-ready teachers who can step into a classroom and impact the learning and success of their students," Turner said. "It is our goal to achieve nothing less than a Gold-Standard in our national accreditation. It is our goal, through expertise, leadership and involvement, to work closely with the Alabama State Department of Education, by having a voice and serving as a model educator preparation program."
Turner intends to involve alumni in efforts to continue that mission. In addition, he believes looking at international education programs could be helpful moving forward.
"It is our goal to begin to provide international experiences for our students in two ways: We want to visit, observe and learn from the international leaders in education and apply appropriate lessons in our own programs," he said. "Secondly, where the opportunity can be found, we want to stand alongside and provide support to the educational enterprise in developing countries."
The JSU School of Education proudly serves the citizens of northeast Alabama, the southeast, and the nation through both traditional and online programs of study at the baccalaureate, master's, and educational specialist levels. Its programs are accredited through the Southern Association of Colleges and Schools, Council for Accreditation of Educator Preparation, Accreditation Council for Education in Nutrition and Dietetics, American Association of Family and Consumer Sciences, and the Council for Accreditation of Counseling and Related Educational Programs.